This Kenyan Church fellowship in America needs a Second and Third look: Its too Radical!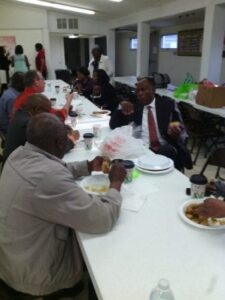 Do we have to import even tribalism to America?:This Kenyan Church fellowship in America needs a Second and Third look: Its too Radical!
If you are in the United States, you know that there is a problem with the Christian Community. One human nature is our ability to not get along. Historically, the human race has been involved in wars on everything from wives to cattle. It is this fact that led to Kenya's post election violence! We human beings always find a way to hate, dismiss, and create jealousy, class-ism, tribal-ism, race-ism and many other isms. For the Kenyan, the tribal war goes on even outside the country.
There is nothing wrong with belonging to a tribal group. The nature of our names put us pre-amply into certain categories. My name, Teddy Njoroge Kamau, immediately causes many Kenyans to say, "that one is a Kikuyu. No wonder he is rich!" It is the nature of the beast! Some people in my village question why I prefer to hire luhya. Actually they do not know the difference between luhya and Luo; they accuse me of not being "village enough". They would prefer that everybody who I hire show a last name of Kamau, Njoroge, Kariuki or Mwangi. Any Owuor, Ododo, or Indusa arouses suspicion: The nature of the beast.
The Sad thing is that you would expect this myopic categorization to end when one lands in the West. It is not that the "animals" in the west do not live in their own "jungle" where the "Lion" chase the "Gazelle"; they have historically perfected the act of categorization. In order to keep count of "tribal" groups, the United States government has a category on the employment form: White, Black of African origin, Hispanic, etc. They say it is to preserve data protecting the minority groups. Really? Affirmative action they call it. Now, now, now! I worked in Chicago's North Suburbs . . . I do not think that is working out very well for the minority. I was the only 'colorful' guy working in the Highland Park Library. They were very nice to me, but I was lonely. In my college we were only 6 colorful guys! I was the only African.
The Kenyan community in the United States is not different. I attended a church in Boston. I was looking for a Kenyan fellowship and expected to find, a Kenyan fellowship. Instead, I entered into a "wakorino" church with everything but the turbans! My goodness! Do we have to import even tribalism to America? The story is that people are always looking for creatures like them. That is why my friends at NASA are still looking for characters in outer space! If all that money could go to helping the poor!
Many Kenyan churches in North America have adopted the tribal category reflected in Kinangop, Kosirai Nandi, and Khuhumsalaba. Tribal categories govern the attendance. Therefore when I heard about this new fellowship in Chicago Suburbia I got curios! It is said to host all tribal groups and insists on Christian Fellowship, not tribal fellowship. They are having their one year anniversary this Sunday the 19th and I might just show up there this coming Sunday to fellowship. My intellectual Christian pursuit might finally find a Kenyan Church in America where Christ is Lord not a tribal Chief!
If you are in the neighborhood, why not call the pastor: 815 762 4694 for directions!
Teddy Njoroge Kamau (PhD) HTBluff Associates. An EMG Consortium #HTBluff. Diaspora Messenger Columnist.