Bensouda seeks to tighten Ruto case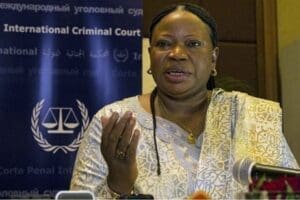 International Criminal Court's Prosecutor Fatou Bensouda wants judges to allow her to use testimony from witnesses who later withdrew from her faltering case against Deputy President William Ruto.
The call came after Ms Bensouda already had to withdraw charges against President Uhuru Kenyatta for post-election violence in 2007/08, amid widespread accusations of witness intimidation.
Mr Ruto and radio host Joshua arap Sang remain on trial before the Hague-based court for their alleged role in the violence, which prosecutors say left more than 1,200 dead and displaced 600,000 others.
In Ruto's case, the prosecution has been "deprived of the evidence necessary to prove its case by virtue of the improper interference with its witnesses," Bensouda said in a court document seen on Friday.
"No fewer than 16 of the prosecution's 42 original witnesses have withdrawn their cooperation… and refused to testify, citing threats, intimidation and, or fears of reprisals," she said in the filing, published on the ICC's website.
MISSING WITNESSES
Ms Bensouda, therefore, urged judges to allow the admissibility "of records of prior interviews of missing and recanting witnesses who succumbed to improper influences."
"Not to do so would deny the Chamber the ability to assess the whole of the evidence. It would also reward an attempt to obstruct justice," she said.
If judges rule in favour of her request, it would set a precedent at the world's only permanent independent body to try the worst crimes, set up in 2002.
The ICC has come under fire including from Africa, which has accused it of unfairly targeting offenders from that continent.
Kenya itself has been at the forefront of an international campaign to put Mr Kenyatta's trial on hold as well as that of his rival-turned-partner Ruto.
WITNESS INTIMIDATION
Like Mr Kenyatta, Mr Ruto rejects the charges.
Prosecutors throughout a marathon five-year investigation have consistently alleged major witness intimidation and bribery.
In Kenya, bitter memories remain of the unrest, which shattered the country's image as a beacon of regional stability.
Violence broke out after opposition leader Raila Odinga accused then President Mwai Kibaki of rigging his way to re-election in the vote, held in late 2007.
nation.co.ke