How Burundi President Pierre Nkurunziza's flight home aborted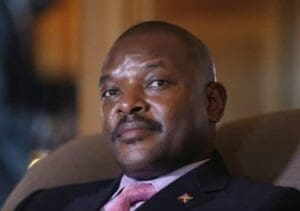 The drama that beset the East African Community heads of state at the Dar es Salaam conference on Wednesday when news of the coup attempt in Burundi broke can now be revealed.
All was set for the East African Community-led talks to try and save Burundi from descending into chaos.
Four EAC leaders, among them President Uhuru Kenyatta, were deliberating on the happenings in Burundi, then word seeped through that Godefroid Niyombare, a retired Major General and former Director of Military Intelligence, had "dismissed" Burundian President Pierre Nkurunziza from his duties.
What followed thereafter was nothing short of dramatic. Mr Nkurunziza frantically tried to leave his hotel room at the Dar es Salaam Serena, a fortress for VIP dignitaries visiting Tanzania for the talks a few kilometres away "to go back to Bujumbura", but was talked out of it by protocol officials from the Tanzania government, a source who was present throughout told The Standard in confidence.
"He was advised to monitor things first, then take the next step because things were still fluid and there was scant information soon after the announcement," said the source.
It is not clear how but at some point he exited the hotel hoping to slip back into Burundi and take charge of things.
His plane, a chartered flight from Nairobi, couldn't land in Bujumbura.
"His opponents had taken over the runway in Bujumbura with thousands of people supposedly sitting or lying on the tarmac," said our source who sought anonymity.
There was little the pilots could do, and with darkness enveloping the city, the plane flew back into Julius Nyerere International Airport at about 8pm, just as President Kenyatta and his entourage left for Nairobi. It is not clear if the two met at the airport.
Another confidential source at Serena Hotel confirmed the Burundian President had checked into the hotel again.
Despite the media carefully calling it an attempted coup, the words of the EAC Heads of State communique read by chairman Jakaya Kikwete were rather blunt.
"We condemn the coup," he had said.
Mr Kikwete, who chaired the summit on the crisis, said the regional leaders wanted a speedy return to the constitutional order.
Following an emergency meeting yesterday, the African Union's Peace and Security Council condemned any attempts to seize power through violence in Burundi and urged talks between the warring factions.
Mr Nkurunziza's exact whereabouts were unknown yesterday, but in a Twitter post issued by his office, he urged the country to remain calm and said the situation is under control.
Burundi's Constitution states that a president can be popularly elected to two five-year terms.
Nkurunziza maintains he can run for a third term because Parliament elected him for his first one, leaving him open to be popularly elected to two terms.
Behind the scenes, Rwandan President Paul Kagame and Yoweri Museveni had left the talks before the joint communique was issued. It was not clear why the two had done so.
The Government said Kenyans living or working in Burundi are safe despite the attempted ouster of President Nkurunziza. It assured the public that it is ready to deal with the situation should it deteriorate to violence.
Foreign Affairs Cabinet Secretary Amina Mohammed, in a statement read on her behalf by Committee on National Security and Foreign Relations chairman Senator Yusuf Haji (Garissa), affirmed that they are in constant communication with Kenyans in Burundi and had advised them to remain indoors and only venture out for only essential movements.
But senators led by Minority Leader Moses Wetang'ula (Bungoma) sought a statement on the number of Kenyans living and working in Burundi and whether the Government had plans to evacuate them should the situation become worse.
Senator Wetang'ula wondered why the Government was slow in protecting Kenyans who live and work in Burundi.
The Standard Group Ltd, the owners of The Standard, The Nairobian, KTN, Radio Maisha and Standard Digital are mounting a campaign to identify and help Kenyans stranded in Bujumbura and link them with evacuation agencies.
You can share your experiences, images, location with us as we facilitate linking you with evacuation agencies, Kenya government agencies and other rescue missions. If you or your relatives are trapped in Bujumbura or any parts of Burundi please share the contact information with us or email us at [email protected]
-standardmedia.co.ke