Ciku Muiruri Goes Hard On Mike Sonko's Parenting Skills
Picking or judging someones parenting skills sounds unfair, but somethings are better corrected before they get out of hand. By now everyone is aware that Sonko loves to spoil his kids with anything money can buy.
But after his daughter pulled the gun stunt yesterday, followed by her caption, their is no question that his kids lack the right guidance. Anyway that is not my problem but his.
However mother of one gorgeous girl, Ciku Muiruri, could not hold back her comments after she saw Salma's stunt.
Through her social media handle, Ciku told off Mike Sonko's parenting skills and in conclusion linked the daughters behavior to her dads.
However much it sounds bitter, this time Ciku made a point.  She said,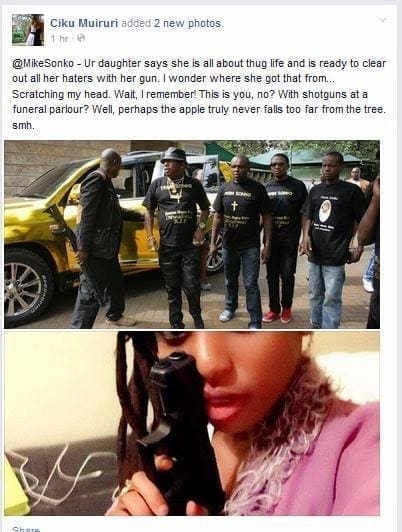 http://niaje.com/