Jubilee youth leaders threaten protest over Ruto ICC case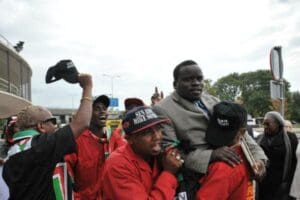 Pressure is mounting on ICC prosecutor Fatou Bensouda to finally let go Deputy President William Ruto and Journalist Joshua Sang following her admission that she has weak evidence to sustain the case.
Jubilee youth leaders drawn from both TNA and URP are now threatening to mobilize a peaceful demonstration in the city to demand for the withdrawal of the case.
Youth leaders James Wanjohi and URP youth congress chair on Friday said the Hague court is dragging the case against the deputy president.
"In any court there is always must be justice for the accused and the accusers. We are not seeing justice for the president why?" James Wanjohi told the star on phone.
Wanjohi said the case has lost direction and is only creating tribal divisions in the country.
He added that the demos will be determined by the action of the prosecutor on the case in next few days.
Wanjohi has however exuded confidence that the DP will be off the hook saying the jubilee youth are behind the Deputy President.
Edigar Kavulavu from the International Commission of Jurists said it will be difficult for Bensouda to prosecute the case in its current state.
He said procedurally, she may be forced to file an application for withdrawal of the case or the defense team will quickly file for a no case to answer motion that must be determined 14 days after its application.
"It will be very difficult for her to proceed without evidence. If the prosecutor proceeds with the case without the evidence then it will prejudice the rights of the Deputy President." Said Kavulavu.
He said after the earlier confession by Bensouda, it is unlikely for the case to proceed and this might be the last nail on the case that he says has already collapsed.
The last ICC witness who was supposed to testify against Ruto only showed up after last minute attempts but refused to testify yet again claiming he was unwell, forcing an adjournment of the trial.
It remains to be seen whether the ICC prosecutor will opt to conduct fresh investigations into the case or withdraw the case all together.
-the-star.co.ke