Kenyan admits raising funds for Al-Shabaab in US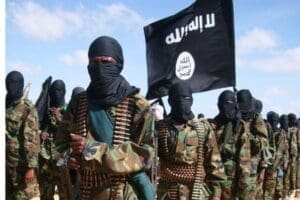 A Kenyan is facing a 15-year prison term in the United States after pleading guilty to charges of raising funds for Al-Shabaab and a group affiliated to Al-Qaeda based in Syria.
Mohamed Hussein Said, 27, pleaded guilty on Thursday to conspiring to provide and attempting to provide financial support to Al-Qaeda and its affiliates Al-Nusra Front in Syria and Al-Shabaab in Somalia.
According to a statement by the US Justice Department, Mr Said is accused of providing material support to "foreign terrorist organizations."
He was indicted on 15 counts alongside US citizen Gufran Ahmed Mohammed.
Both men were arrested in Saudi Arabia last year and flown to Miami by the US Federal Bureau of Investigations (FBI) agents.
The US Justice Department statement indicate that Mr Mohammed wired more than $11,600 (Sh1.1 million) to Mr Said to support Al-Shabaab.
"Said also served as a contact and recruiter of foreign fighters from the United Kingdom and elsewhere travelling to Somalia to join Al-Shabaab," the statement adds.
The two men were also conspiring to send recruits to the Al-Qaeda and Al-Nusra Front to fight in Syria.
Said's sentencing will be held on August 14.
The two were arrested as a result of their comments in Internet chat rooms used by Islamist militants.
FBI agents posing online as recruiters and fundraisers for terrorist groups gathered evidence of Mr Said's and Mr Mohammed's efforts on behalf of Al-Shabaab.
In their online conversations, Al-Shabaab recruits were referred to as "tomatoes" or "dogs," according to Mr Said's statement.
Court documents filed earlier by US prosecutors state that Mr Said had sought funds from the undercover FBI agent "to pay the rent for fighters who were in Kenya on the command of Abu Zubeir, an Al-Shabaab leader."
By ANTONY KARANJA
-nation.co.ke