Kenyan Lowell woman dies in rollover on I-95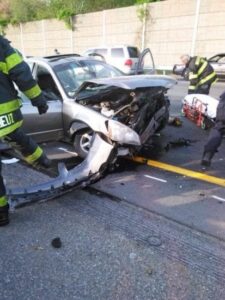 WAKEFIELD — A 25-year-old Lowell woman died in a rollover crash on Interstate 95 North in Wakefield on Monday, state police said.
Grace Kabuti was driving a Nissan Altima at 6:39 a.m. when she swerved and rolled over in the left lane, according to state police.
She was transported to Lahey Hospital and Medical Center in Burlington, where she was later pronounced dead. The passenger, a 22-year-old Lowell man, was transported to Beverly Hospital for minor injuries.
The cause of the crash remains under investigation, and no charges have been filed.
Troopers from the state police barracks in Danvers, the Collision Analysis and Reconstruction Section, the Crime Scene Services Section, the Middlesex District Attorney's Office and the Troop A Headquarters are assisting in the investigation. Also assisting at the scene were the Wakefield Police Department, the Wakefield Fire Department and EMS, and the MassDOT.