Nadome massacre:'I survived under the shadow of death'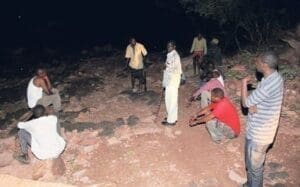 Tuesday, May 5, started off well for me, just like any other day.
My colleagues Lois Wangui (NTV), James Ng'ang'a (NTV), Jared Nyataya (Daily Nation) our crew assistant Benard Rotich and I set off for a tour of the volatile Nadome area at the border of Turkana East and Tiaty sub-counties, where 56 people were killed at dawn the previous day.
The morning sun made the day appear bright and promising, but little did it occur to me that the otherwise good day would turn out to be the most harrowing in my life.
We started our five-hour, treacherous journey south of Marigat Town around 8am after taking a light, hurried breakfast. We ensured we carried all that was necessary for the over 200-kilometre journey.
Our drive took us to the village, which has come to be called the valley of death, where we carried out quick interviews with the victims of the deadly attack.
However, we were not satisfied by their stories alone, and the urge to see bodies of the victims for ourselves was overwhelming, if indeed they were killed.
Herders are sometimes known to exaggerate the number of deaths and casualties during such attacks.
However, this proved tricky to some of us because no vehicle go past the rugged terrain and the only option was to walk for more than five hours to the nearest village.
That meant that we would complete the whole journey by 7pm.
Trekking proved a bit tedious to some of us, with my colleague Lois being the first to throw in the towel, followed by Ng'anga.
Feeling a bit energised, thanks to my hailing from the "home of champions" (Elgeyo Marakwet), I soldiered on despite pleas by Lois that we give up and go back to where we had parked our vehicle.
But I didn't last long as I also gave up a while later.
But my move was too little too late as the group in front was already out of ear and sight. And so were my colleagues Ng'anga and Loise.
As I was to learn later, this was later to turn out to be one of the worst errors of calculation I've made in my 10 years of journalism.
I made the risky, about-turn journey alone.
All was okay for about 30 minutes until all hell broke loose as I lost my bearings altogether and couldn't locate where our vehicle and colleagues were.
If I can recall well, I think I manoeuvred myself between hard rocks and thorny shrubs for about four hours without getting to anywhere, occasionally, dodging poisonous snakes, among them cobras.
I was almost giving up after walking for more than five hours without getting anywhere.
Locals I met did little to alleviate my suffering as they pretended not understand Swahili and used their native language instead.
Apparently, as I was later to learn, following rampant cases of insecurity locals have come to detest strangers.
A young lady I came across for instance, duped me into taking the opposite route to where our vehicle was packed.
As I recall today, her move may have been the genesis of my more than 10 hours in the jungle which armed bandits roam freely in the vicinity.
My problems were compounded by the fact that the area has no mobile network. I had left my phone charging in our car, anyway.
Darkness was now fast approaching yet I was still walking aimlessly in the middle of nowhere. From my judgment, I think it was some minutes to 8pm.
That was when I decided to just look for somewhere to rest my aching limbs.
I was very hungry and tired, and I decided to take some contaminated water to stay alive. We had no eaten anything the whole day and I was almost dehydrated after losing a lot of sweat the whole day.
By this time, as I was later to learn, my colleagues and family members who had learned of my disappearance were extremely worried.
First I decided to sleep near a river bank but dismissed the idea after remembering a Pokot elder warning me of hyenas and cheetahs which roam such area at night. I settled for a tree.
With the first light of morning, I climbed down the tree and just walked until I came across a Pokot man's homestead.
At first, he was a bit suspicious, but after explaining myself, albeit through the language barrier, he become friendly.
He even connected me with the area MCA Mr Nelson Lotela, who made arrangements for me to be air-lifted to Marigat town in a Kenya Police helicopter.
That's how I faced and escaped from the jaws of death in the 'valley of death'.
-nation.co.ke