Student presents DP Ruto with bananas at his Karen residence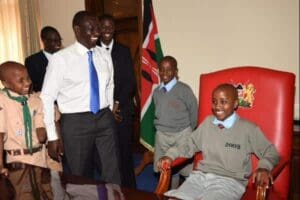 Deputy President William Ruto received a bunch of bananas from 13-year old Spasha Mereka at his Karen residence, when he hosted 46 students from Pioneer School, Murang'a on Monday.
The DP had invited Mereka, his classmates and teachers for breakfast and a tour of his residence.
Ruto and Mereka met during a thanksgiving ceremony at Pioneer School where the student had recited a poem on Ruto's humble back ground.
After the poem, the 13-year-old promised asked the DP to invite him for breakfast and promised to carry a bunch of bananas as a show of appreciation.
Ruto said he would share the bananas with President Uhuru Kenyatta.
He told the students that Kenya offers an opportunity for every child to excel and urged them take their studies seriously.
Ruto said his life was a testimony of what this country can offer regardless of a person's background.
"Looking at me is looking at the possibility of what Kenya gives to each of us," he said.
"Your dreams are valid; all you need to do is work hard by being consistent and listening to teachers. This country offers an opportunity to every child to excel," he added.
– the-star.co.ke