Uhuru heads to SA for Pan African Parliament session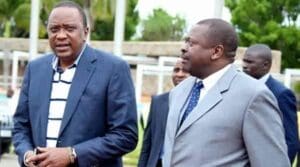 NAIROBI, Kenya, May 17 – President Uhuru Kenyatta Sunday afternoon travelled to Johannesburg to address the 6th Ordinary Session of the Third Parliament of the Pan African Parliament (PAP).
PAP is the legislative body of the African Union. It has 245 Members of Parliament drawn from AU member states who are elected by their national parliaments.
Initially, the seat of PAP was Addis Ababa, Ethiopia, but it was later moved to Midrand, South Africa.
PAP meets four times a year – in March, May, August and October – for sittings of committees and sessions of parliament.
While in South Africa, President Kenyatta will also hold talks with his host President Jacob Zuma.
The plane carrying President Kenyatta and his entourage departed Jomo Kenyatta International Airport shortly before 3pm.
-capitalfm.co.ke