I was possessed by an evil spirit, says Oklahoma man charged with raping children in Kenya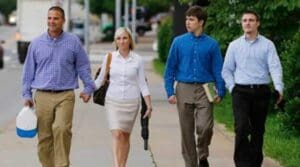 An Oklahoma man charged with sexually molesting children at a Kenyan orphanage told a US Federal Court on Wednesday he was innocent but believed he was possessed by an evil spirit that made him do things he does not remember.
Matthew Durham, 20, of Edmond, took the stand in his own defense on 17 charges of raping and sexually abusing children as young as 6 when he was performing Christian missionary work at the Upendo Children's Home in Kenya.
If convicted, Durham faces up to life in prison.
When the home manager confronted Durham about possible inappropriate behavior with the children, he denied the accusations, he said. Durham blamed an evil spirit named Luke for the crimes. "They told me that an eyewitness saw me," Durham said. "I thought that meant (Luke) came at night. I have no recollection of molesting those children, but they told me I did, so it must have been an evil spirit. I wasn't in a good place." Several videos taken by an Upendo manager and presented as evidence show Durham being questioned by Upendo founder Eunice Menja, in which he repeatedly states that he does not remember committing the crimes. He is shown asking for patience while he tried to remember, but then admits to taking children into a bathroom at the orphanage and engaging in acts with them. "I was scared. They made me doubt my own memories," Durham told the jury. Durham's attorney, Stephen Jones, told jurors that the videotape and handwritten confessions were coerced because officials had taken Durham's passport, held him in isolation and threatened to call Kenyan police if he did not confess. Prosecutors called suspected victims to the stand who testified in a cleared court room about their sexual abuse at the hands of Durham, court officials said. Closing arguments are expected before the end of the week. – See more at: -indianexpress.com