MARTHA KARUA LASHES OUT AT MAINA KAGENI ON TWITTER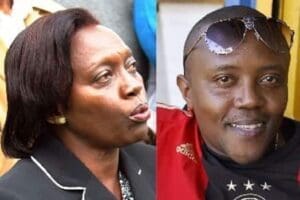 Popular radio presenter Maina Kageni is the latest personality to incur the wrath of outspoken politician Martha Karua.
Kageni – who hosts a popular radio show – was on the receiving end on Twitter from the former member of parliament cum presidential candidate on Friday morning.
The series of tweets were supposedly posted in an apparent response to a discussion agenda on Maina's show, which the "Iron Lady" of Kenyan politics seemed to have been uncomfortable with.
In the tweets, Karua took an issue with Kageni's discussion that surrounded the marital status of prominent leaders.
Some of the tweets read: "Kenya is facing serious security governance and other challenges do they have a bearing on the marital status of leaders @ItsMainaKageni'.
MARITAL STATUS
"As citizens we must begin to question whether programs in our media is helping to move society forward or is retrogresive @ItsMainaKegeni."
Karua also challenged Kageni – who is also known to be single – to declare his marital status.
"@ItsMainaKageni are you married yourself? Are you a failure? Your role is to direct the conversation to be of use to the society, tell us.."
Maina opted not to respond to the inquiries.
This is not the first time Karua is facing off with an employee of Radio Africa Group – where Maina works.
The politician also engaged in a well publicized spat with Caroline Mutoko – incidentally a former radio presenter, an argument that eventually ended in court.
-nairobinews.co.ke