President Kenyatta starts process to replace EACC commissioners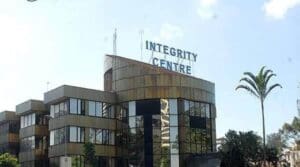 NAIROBI: The process of replacing the Ethics and Anti-Corruption Commission commissioners has kicked off after president Kenyatta sought to recruit a panel that will shop for the bosses.
Kenyatta wrote through his Chief of Staff and head of public service Joseph Kinyua, to the Attorney General Githu Muigai and Department of Justice to ask them to nominate a representative to the panel.
"Following the resignation of commissioners of the Ethics and Anti-Corruption Commission, a vacancy has been created in line with section 9(b) of the Ethics and Anti-Corruption Commission Act 2011," said Kinyua in the letter dated June 2.
He cited Section 10 (1) of the Act provides for the filling of vacancies in commission, which says where a vacancy occurs in the membership of the commission, the President shall appoint a replacement in accordance with the procedure provided for under the Act.
Those to be in panel will be from the Office of the President, Public Service Commission, ministry responsible for ethics and integrity, Judicial Service Commission and Commission for the time being responsible for matters relating to human rights.
Others are from commission responsible for gender, Media Council of Kenya and joint forum of the religious organisations (Supkem, Kenya Episcopal Conference, National Council of Churches of Kenya, Evangelical Fellowship of Kenya, Hindu Council of Kenya) and Association of Professional Societies of East Africa.
Kinyua said the nomination should be done by June 6 for further action.
The move came almost a month after the commissioners at the EACC resigned in a row.
Chairman Mumo Matemu was the latest to resign from office after his vice Irene Keino and Commissioner Prof Jane Onsongo had left the same manner.
Prof Onsongo and Ms Keino had reportedly been forced to resign together at the office of the AG by individuals who said they had been sent for the mission. Whereas Prof Onsongo gave in to the pressure, Ms Keino refused to quit.
It was after that that a lawyer petitioned Parliament to form a tribunal to investigate the conduct of Matemu and Ms Keino.
Lawyer Geoffrey Oriaro had argued that the two were incapable of leading the war against corruption.
The petition sailed through in Parliament before the president formed the tribunal.
It was to be led by retired High Court judge Jonathan Havelock to investigate the conduct of the commissioners. The other members were Ms Margaret Wambui, Mr Muathe Issa and Juster Nkoroi.
After the two resigned, the tribunal was automatically dissolved.
The selection panel shall within seven days of convening, advertise for applications and on short listing of the candidates, hold interviews in public.
They are thereafter required by the Act to forward three names for the position of Chairman and four for the membership positions to the President who has 14 days to submit his selection for chair and two members to the National Assembly for approval.
-standardmedia.co.ke