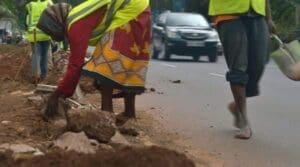 NAIROBI, Kenya, Jul 22 – It has been days of ridicule for the Nairobi Government's project of beautifying Nairobi's highways ahead of US President Barack Obama' s arrival on Friday.
Apart from the buzz the grass planted on Uhuru Highway and Waiyaki Way has generated on social media, the issue has also caught the attention of President Uhuru Kenyatta.
He had a message for Nairobi Governor Evans Kidero during a pre-GES event in Nairobi on Wednesday.
"Hon. Kidero, the Governor of Nairobi don't worry, plant it, it will grow," President Kenyatta said in jest.
The 'Kidero grass' gained more attention when signs were erected asking city residents to keep off the 'grass' when all they could see were mounds of soil.
One of the posts on social media had Kidero and Obama strolling on Uhuru Highway with several bodyguards accompanying them.
Obama is wearing green 'sunglasses' and in their mock conversation he asks Kidero: 'So you are telling me its Nairobi tradition for all visitors to wear green shades?'
Kidero responds, 'yes we have been doing it since independence'.
Another post had it that the most stressed thing was Kidero's grass which had only two days to grow.
"If you think you have too much pressure in life, just remember that there is grass in Nairobi being forced to grow in two days by Dr Kidero before Obama arrives!!!!'
The epitome of the Kidero grass ridicule was a photo of an infant that made rounds on the Internet with five tiny pony tails spread on its head which had scarce baby hair.
Below the photo Kenyans said; "mums please don't subject your little ones to the KideroGrassSyndrome."
In other posts Kenyans resulted to prayers for the grass to sprout and become green before Obama lands on Friday.
"Dear God of green grass, we know we hardly disturb you but this time we want your intervention. We have a very important visitor coming this weekend. If you care to visit our city today, you agree we need you just to bless us on Thursday night.
"Bring forth your blessings of green grass only. I say 'only' because if you dare bring rain, it will be disaster. In our little knowledge on creation of some beauty, we ended up with sand dunes, yes just like the ones in the deserts. The dunes, if you bring forth the rain, will be washed right into our drainage system that our youth service has just managed to unblock the other day for our visitor's sake."
Another photo was one showing the difference between normal grass (Kidero's brown grass) and green grass with a spice called Aromat.
However, another photo that had Kidero and President Kenyatta walking, the president is seen advising Kidero to tell people to say that the grass was not meant for Obama but in preparation for the Pope who is expected in Kenya in September.
"Wewe hujui (you don't know) sema nyasi ni ya Pope (say the grass was planted for the Pope)."
When Obama's cars and helicopters started arriving in the country, Kenyans decided to give them a green tint so that he can see Kidero's grass as green.
One Kenyan said: "Kidero wants to show Obama that he is fighting corruption from the grassroots."
-capitalfm.co.ke