Video:Auma steals the show as Obama lands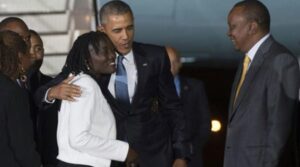 NAIROBI, Kenya, July 24 – Exactly at a minute past 8pm it touched down amid uncertainty among some members of the Kenyan press that it was the one, Air Force One.
The uncertainty, understandable given the lateness of the hour, soon gave way to awe when the full majesty of Air Force One came into view.
Once the red carpet and steps he'd come down were in place, the door opened to what could only have been a Secret Service Agent who on seeing everything was in place, moved aside to make way for Kenya's much anticipated guest, the President of the United States, Barack Obama; the very first to set foot on Kenyan soil.
But it wasn't the first visit for the man who bears the title.
Something obvious for all to see when on disembarking, President Obama embraced his half-sister Auma.
The sister who put a roof on his head when he first got off a plane in Kenya.
The sister who took him for lunch at the Norfolk and later threw a Sh200 note, not an insignificant amount of money at the time, at a waiter who put the needs of the white patrons ahead of theirs.
The sister who later confessed to him that it was foolish to throw away money they needed.
Auma, the sister who helped fill in the blanks of the father he knew so little.
The sister who later accompanied him to their ancestral home where the father he barely knew was laid to rest and where he made peace with his mixed heritage, heralding a new beginning.
A beginning that would see him become the first African American to editorially oversee the prestigious Harvard Law Review then move on to become the only African American, at the time, to be sitting in the US Senate.
-capitalfm.co.ke