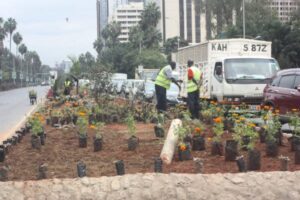 Nairobi county workers were Thursday morning spotted uprooting flower seedlings planted a week ago along Chiromo road.
The flowers were part of a city beautification programme ahead of US President Barack Obama's maiden presidential tour of Kenya.
Governor Evans Kidero, who has been ridiculed for last minute plans, pointed out that proper planting will be done after the ground is restored.
He added via Facebook on Thursday that "KideroGrass is well on course, the quality of grass selected takes time to grow".
Mystery now surrounds the beautification project, said to have cost Sh185 million, following the recording of footage of the city workers uprooting the seedlings.
Via #KideroGrass, residents are now ridiculing the uprooting, saying the plants were 'hired'.
The grass elicited a comical online conversation after signs warning residents against stepping on it were put up along Mombasa Road and Uhuru Highway.
Kidero defended the project saying via Twitter; "We plant grass every year and people keep on stamping and killing them. Please keep off #KideroGrass for a greener city."
While delivering an address during the opening of the pre-summit enterprise expo at KICC on July 22, President Uhuru Kenyatta asked Kidero not to worry about the grass.
-the-star.co.ke