How Mwai Kibaki, Raila Odinga power sharing deal was struck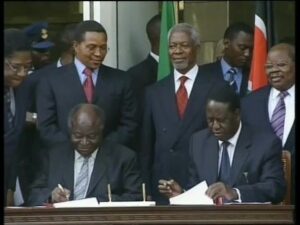 Former Prime Minister Raila Odinga's chief of staff and aide Caroli Omondi has revealed that the process which shaped the power-sharing deal between former President Mwai Kibaki and former Prime Minister Raila Odinga was arduous and took a month.
From negotiating an agreement acceptable to both parties to the consequent appointment of leaders to top positions in government, Omondi  admits there were numerous snags.
Kibaki and then opposition leader Raila were under pressure to reach an urgent solution following post-election clashes in which more than 1,000 people lost their lives and up to 600,000 were left homeless in 2007/2008.
Raila had accused Kibaki of stealing the election, while the former president said the opposition instigated the ethnic violence that led to the senseless killings.
Former UN secretary-general Kofi Annan was at the centre of mediation talks held at the Serena Hotel in Nairobi. The talks lasted more than a month due to unending disagreements between the two principals and factions from ODM and PNU.
"ODM went into the talks with a firm belief that the election victory had been stolen and their people killed by the police while the PNU side also believed that their people had been killed," Omondi recalls.
In the middle of the accusations and counter-accusations, Annan, he says, came up with astute techniques to bring the two 'hostile' teams together.
"We must give credit to Kofi Annan. It was not an easy situation. He is a sophisticated negotiator way above a lot of people.
"When we first got to Serena, the animosity was intense. Kofi was very clever and he came up with techniques of having us bond—forcing us to have tea together, lunches, creating back channels of talking to different people…
"Basically, he knew how to play his game but the challenge is that the teams were hostile to each other," said Omondi in an exclusive interview with The Standard on Sunday.
The three main agenda items that informed the talks were ending sessions of hostility, resettling displaced people and power sharing.
Omondi says the first step was coming up with proposals on how power would be shared. Neither side could agree on a specific deal.
"I ran into a disagreement with ODM leftists when I thought of what eventually came to pass — having a president and a prime minister as part of the power sharing deal. Our leftists wanted a co-presidency."
The former chief of staff says ODM consequently prepared ten principles of a power sharing pact while PNU did not bring anything to the table.
"Eventually, as ODM, we agreed that there could be a prime minister who would coordinate and supervise government, a 50-50 portfolio balance, a coalition breakup clause and a series of other things," he narrates.
However, the talks hit a glitch since neither ODM nor PNU agreed on the suggested power principles. The negotiating teams had fallen out over the most crucial point — how to solve the political crisis.
The former UN secretary general suspended the talks, complaining of lack of progress, and said only the two men at the top could make a breakthrough.
Omondi says: "Koffi pulled a masterstroke and he got various heads of state, especially the US, to put more pressure on talks. Then Secretary of State Condoleezza Rice was sent to speak with Raila and Kibaki."
Rice, who also played a crucial role in arriving at an agreement, said there was need for a governance arrangement that would allow real power-sharing.
After her visit, Kofi resumed his talks — this time directly with Kibaki and Raila. Top party leaders were locked out until a deal was reached.
"What Kofi put on the table were the ten principles that had been suggested by ODM. These principles were negotiated directly by the two principals at Harambee House," he recalls.
A deal was reached but even then, party leaders from both sides — including PNU's Martha Karua, Moses Wetang'ula, Sam Ongeri and Mutula Kilonzo; and ODM's Musalia Mudavadi, William Ruto, James Orengo and Sally Kosgei — met at Serena and added a preamble to the ten principles.
"We used the ten principles to develop the National Accord Act and effect the amendment of the Constitution. We had to report back to Kibaki and Raila at the Office of the President once we were done," Omondi says.
However, a section of PNU members were unimpressed by the document. The former Raila aide says some PNU members had threatened on several occasions to get Kibaki out of the discussions but the former head of state stood his ground.
And when the time came for the grand signing of the deal, Omondi, who was in possession of the document, had to device a tactical way of handing it over for signing.
"I was very suspicious that they (ODM and PNU officials) could hijack the document. Since I was the only one with the four sets of documents, I sat patiently waiting for the principals to take their places. I told Orengo I would give him one copy of the document, which I was to get back once it was signed by the two principals."
The two principles signed an agreement that marked the beginning of an end to the country's worst political crisis since independence.
Having been made the chief of staff in the Prime Minister's office, Omondi was now tasked with assisting the principle in executing executive functions and making major decisions.
"It was indeed a privilege but very torturous. The working hours were long… The level of dedication needed is high because you spend time reading, researching, processing documents, listening to opinions from people and passing them over to the boss for decision-making," he says.
His appointment did not come without hurdles though; he had been appointed to two other positions that were opposed by the party.
"At first, I had been appointed secretary for administration, but we did not accept that as the office of PM. I was then appointed principle administrative secretary, which we also rejected. The PM insisted that I should be chief of staff because he knew the direction the country was taking at that point and how his office would be structured."
Since his job was time consuming, Omondi would rarely see his family as he spent long hours in the office or locked up in meetings.
"Suddenly I could not see my children even though I enjoyed playing with them because I got home when they were asleep and left before they woke up. I agreed with Raila that I would take them to school, which I did for four years," the renowned lawyer said.
-standardmedia.co.ke