Now Karangi says that KDF should pull out of Somalia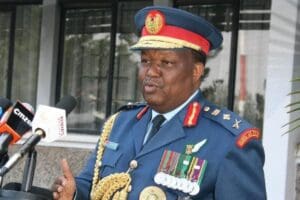 THE Kenya Defence Forces should leave Somalia, former chief of defence forces Julius Karangi said yesterday.
He, however, said KDF's exit could lead to a leadership vacuum, reversing the gains made in the fight against al Shabaab.
Speaking at the Leisure Lodge Resort, Kwale, during the annual Law Society of Kenya conference, Karangi said: "Kenya in my opinion should have pulled its forces yesterday but the question would be who we will leave it to."
Karangi said Amisom should provide more troops to stop inter-clan fighting.
He said when Kenya entered Somalia, the US refused to send its soldiers because of what they encountered in 1992 and 1993.
Karangi said Ethiopian and KDF troops recently hit al Shabaab bases.
"This happened in the city of Adara and we know the exact place where they are. It is a matter of time and we will catch up with them," he said.
Karangi said al Shabaab will never define how long KDF will be in Somalia because the country has to ensure liberated areas are not taken over again.
– the-star.co.ke