The Kenyan Opposition Is a Non-Issue By Dannish Odongo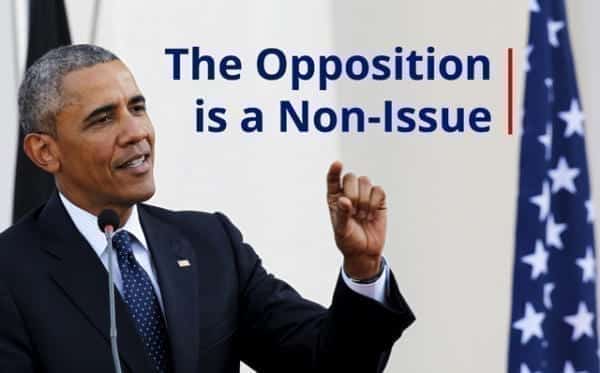 Kenya's political opposition appears to be on its death bed and worse still its leaders seem to be oblivious of this most unfortunate fact. They might as well disband their moribund, run down and ineffective political outfits and join the government. The current crop of opposition leaders appear to be a misguided group bent on trying to repair another man's fence while their own is in shambles. Even some of the loose cannons that are part of KOT often times do a better job than the opposition which, in my view, has totally failed Kenyans in delivering on its role as a government watchdog.
In my earlier article CORD isn't ready to lead the Nation, #OkoaCORD, I set out the pivotal role that a sound opposition should play in furthering democracy. The watchdog role cannot be wished away. However, it must be done without malice or ill will. The opposition ought to exercise vigil over the performance of the government for the public good by becoming the eyes of the citizens and not merely for the purpose of trying to discredit everything the government does. As it stands, CORD and the opposition in general has failed to carry out this mandate with excellence. Instead, they have come out as petty leaders who are blinded by personal ambitions over the well-being of the entire republic. Join me as I walk you through a guard of dishonor mounted by the opposition's key generals to show you what I mean.
Raila Odinga
Even though you have sacrificed much for this nation, dear Raila, your incessant complaining has now reached toxic levels. You are on the brink of abandoning the image you have cut for yourself as a national leader for that of a pessimistic blame game baron. You are increasingly demonstrating the unique ability to find fault in virtually everything. The "mkate nusu" regime was saturated with your incessant complaining on virtually all that you could complain about from a supposedly stolen election to the most trivial of things such as a worn out carpet at a public rally.
What you may not have realized is that this trend makes you come across as being weak which you most certainly are not. The excessive complaining makes you look like an individual who is always bent on painting the government of the day in a bad light so as to cultivate the seed of resentment against it and to ride the wave of that resentment into State House. As a part of the Kibaki coalition Government, you ought to have embraced the principle of collective responsibility. As a leader, you ought to have owned up to collective government mistakes and faced the problems that came your way with an attitude of positivity. Complaining gives the impression that you are overwhelmed and that things are out of control. In politics, nothing is as uninspiring as an overwhelmed leader who never misses an opportunity to tell the whole world how overwhelmed he is on account of his opponent's supposed machinations.
The old school mentality of politics, where leaders try to ascend by pointing out the failure of his opponents and complaining of their wrong doing, has long been overtaken by time. Embrace the politics of development. Before you seek to lead the nation effectively as, show us by leading ODM well. Nothing has greater potential to put you in office than a demonstration of sound development based leadership within ODM.
Kalonzo Musyoka
Here stands a man whose infamy as a turn coat earned him the dubious moniker, "Mr. Water Melon". Kenyans are well aware that though he has always served in different capacities within government, all he has done is his supposed command of the "Kamba vote" as a bargaining chip at the table where selfish political deals are cut. He has done precious little for the people of Mwingi and Ukambani as a whole let alone the nation.
Charity begins at home Mr. Water Melon. Your hose cannot lead others when your own house is in a mess. Ukambani is still grappling with basic challenges despite the influence you had during your squandered days in government. What Kenyans see in you is a leader who intentionally left his people in a state of desperation. After all, desperate people are the easiest to manipulate, right? The truth is a significant number of Kenyans view you as being a man who is ready to switch goal posts when it suits him best, even at the expense of the entire nation's interest. That's not the stuff that genuine leaders are made of Mr. Musyoka.
You must either become firm and passionate about serving the interests of the people, which I believe you certainly can be or stand aside and allow the government to work for the people of Ukambani who you have intentionally kept in the wilderness for far too long.
Moses Wetangula
Bwana Wetangula, you have had incredible growth in your career as a political leader and you are arguably one of the leading political lights from Western province and for that you must be commended but unfortunately your track record robs you of the moral authority to speak against corruption in this nation.
When you were the Minister for Foreign Affairs, a number of questionable deals were passed under your watch for example, the alleged overpriced purchase and sale of Kenyan Embassy properties in Pakistan, Egypt, Belgium, Japan and Nigeria. It was alleged that Kenya lost over $15M in the Japan embassy deal. In addition, when you were in government, your arrogance was plain for all to see. You have always been a defender of the status quo. Throughout your career, you have excelled well in supporting and defending the position of the government regardless of whether it was right or wrong. I'm amused at how being out of power has changed your perspective. Apparently you have now become an expert at seeing everything that's wrong with the government. Could it be that the political 'cold' is finally sobering you up to the realities of governance?
Martha Karua
Your pedigree as a lawyer cannot be questioned Ms. Karua. Your intelligence and courage are assets that this nation could have used if they had been channeled in the right direction but you chose to be the iron lady of the NARC government. The hardline positions you invariably took during your days of power within Kibaki's government are indelibly imprinted in our minds. During an interview with BBC's HARD talk in January, 2008 as the then Minister for Justice and Constitutional Affairs, you sensationally claimed that while the government had suspected that the opposition was "planning mayhem if they lost" but that the government was surprised by "the magnitude" of the violence which you termed as "ethnic cleansing". You cast aside your duties of cohesion and patriotism and you joined the blame game that almost turned this nation into a fallen state.
You were extremely arrogant and defensive of the government of the day regardless of the positions it took. During the disputed elections, many will remember how you placed your conscience aside and fought to ensure that the Kibaki regime found its way into power regardless of the blood that was being shed. Instead of standing on the side of the truth, you took a side that you felt would serve your interests in the vain hope that you would be rewarded for your loyalty. Sadly politics doesn't work like that. Leadership isn't given, it is earned through consistent demonstration of integrity and principles. Nurse your loss well and resist the temptation of joining further coalitions of people whose hands are habitually found in the cookie jar.
A stubborn fly follows the corpse to the grave
BY DANNISH ODONGO/Dannish Odongo works for Capital FM as a digital media strategist. He runs a blog on leadership and faith dannish.co.ke.
The Kenyan Opposition Is a Non-Issue By Dannish Odongo