Joel Kitili rises to deputy inspector-general post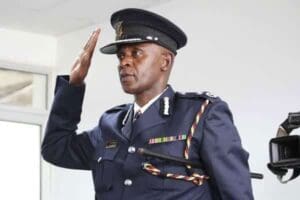 President Uhuru Kenyatta has nominated Joel Mboya Kitili as acting deputy inspector-general in charge of the Kenya Police Service.
Mr Kitili, who was the GSU commandant until his nomination, will replace Ms Grace Kaindi, who has been nominated to an ambassadorial position.
The president on Tuesday also appointed ambassador Martin Kimani as the director of the National Counter Terrorism Centre while Mr Isaac Ochieng, who headed the Karen-based centre, also got an ambassadorial post.
In a statement, President Kenyatta said the nominations were meant to ensure a smooth transition and maintain the momentum of the ongoing police reforms.
"Mr Joel Kitili's nomination is with immediate effect, and until the substantive process of appointing the next DIG (deputy inspector-general) takes place," Mr Kenyatta said.
The president recently appointed Mr Kitili to coordinate the national crackdown on illicit and killer alcohol.
REVERSED DECISION
The transition comes just a few months after the National Police Service Commission (NPSC) wrote to Ms Kaindi asking her to retire on age grounds.
Ms Kaindi contested the retirement and argued that she would serve until 2018, when her term would end.
Consequently, on July 13, the NPSC reversed the decision to retire her and stated that she would serve as the DIG for the next three years.
The National Police Service Act stipulates that the mandate of Deputy IG of five years is renewable for another term.
But the renewal, unlike the initial appointment, is subject to consideration of the 60 years retirement age.
Ms Kaindi, according to the National Police Service website, is a holder of a Master's in International Relations from University of Nairobi and MSc in Risk, Crisis and Disaster Management from University of Leicester, UK
VAST EXPERIENCE
"She has vast experience in the police force where she has served in various ranks since her enlistment in 1975," the profile indicates.
She has worked as the Commandant of the CID training School (2005), Provincial Police Commandant, Nyanza (2006-2008) and Director of Complaints at police headquarters (2008-2012) prior to her subsequent appointment as DIG.
Mr Kitili was appointed the commandant of the GSU on March 20 last year.
Before the appointment, he served as the Rift Valley Regional coordinator.
In June 2012, he was hounded out of State House where he was the commandant of Presidential Escorts over alleged disagreement with a member of the then first family.
He was then appointed the head of the national armoury.
-nation.co.ke