Kuria reveals names of ICC 'coached' witnesses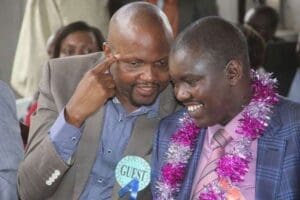 Defiant Gatundu South MP has revealed names of witnesses he claims were coached to 'fix' Deputy President at ICC, insisting Martha Karua was involved.
Mr Moses Kuria, speaking on Sunday in Ng'enyilel in Uasin Gishu County during a church fund raiser, dropped names of purported procured witnesses who were allegedly sent to him by Narc Kenya leader Ms Martha Karua to him to 'fix' Mr William Ruto at the International Criminal Court (ICC).
He maintained that Mrs Karua, a presidential candidate in the last general elections, was the main orchestrator in the plot.
"Karua has given me a chance so that the truth can come out… it can take a day or years, but the truth shall remain the truth… at the end of it all she will be ashamed," said Kuria.
The controversial MP said he is not speaking out of the blues and he is ready to spill all the beans and make sure the DP is vindicated.
"Mimi hapana wazimu nakumbuka haya yote kama ni jana (I'm not mad I remember these events as if they happened yesterday)," said the Gatundu South lawmaker.
While he revealed names of two of the 'coached' witnesses he claims were sent to him by Ms Karua, Mr Kuria also mentioned Mr Peter Maundu from Makueni as having been also instructed by Ms Karua to work with him (Kuria).
He also said Josephine Odhiambo was sent to him by Ms Karua, again, to assist him in procuring the witnesses.
Mr Kuria further challenged his opponents who don't believe that the case against Mr Ruto was a political witch-hunt, to ask themselves how come he is aware of the 'fixing' plot which he said began during the Kreigler Commission sittings.
The MP, however, told off critics who have accused him of sitting on the information for a long time before revealing it.
He said he first issued a statement in 2010 saying the cases against President Uhuru Kenyatta and his deputy William Ruto were political witch hunt.
Speaking at the same rally, Kericho Senator Mr Charles Keter also called on local residents who were part of the 'procured' witnesses to come clean and tell the world that they were bribed to lie in their testimonies to the ICC, in The Hague.
"Those witnesses come from here. They are our boys, they know very well the Deputy President didn't plan any violence, they should come clean," said Mr Keter.
According to Mr Keter, the Deputy President is facing the case at The Hague based court on behalf of all Kalenjins 'because Kalenjin professionals and businessmen have also been accused of funding the post polls violence'.
-nation.co.ke