Photos: President launches NYS projects at the Coast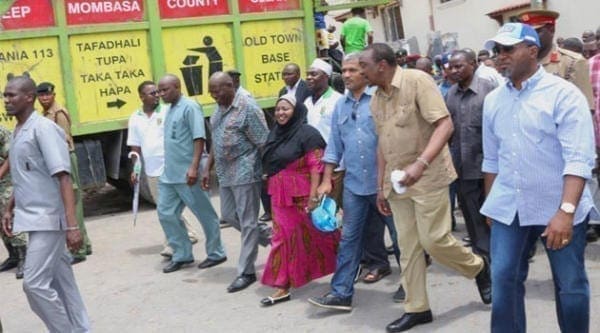 MOMBASA, Kenya, Sept 1 – President Uhuru Kenyatta has launched the NYS youth empowerment program in Mombasa Old Town. The project will employ more than 1,000 youth who will be engaged in cleaning up the Old Town, open up drainage systems and build police posts and health clinics.
The youth empowerment project has also kicked off in Kisauni Constituency and will soon be extended to Likoni as well other coast counties.
The NYS project is part of a raft of measures that the government will implement to boost the economy of the coastal city.
Mombasa's famous Marikiti Market will also be modernised with President Kenyatta promising that no trader currently housed there will be displaced after the upgrade, which will be completed within the next three months.
The Kenya Power and Lighting Company has also embarked on a simultaneous project to light Old Town to improve security and enable longer hours of doing business.
Another ambitious project announced by President Kenyatta, which is aimed at boosting the economy of Mombasa, is a plan to redesign the seafront from Fort Jesus to the Old Town as a place for relaxation that attracts tourists.
The President also announced that the Government will buy fishing boats to be given to youth groups. Cold storage will also be made available at the old port.
"The Government is not interested in making profits; our aim is to create opportunities for families to have sources of livelihood," he said.
The President, who spoke at Fort Jesus when he launched the NYS project, also announced that he had directed Bandari College to reduce fees for seafarers course from the current Sh70,000 to Sh35,000.
The Head of State also reiterated his directive that the drug menace must be confronted to free the youth in Mombasa from the vice.
"Drug addicts need help and they will be taken to rehabilitation centres, but we will have to arrest the pedlars and the barons. Those who supply and sell to them live among you and that is why you should lead in this fight," the President said.
The President also urged youth to avoid being misled into joining terrorist groups that are using false faith to brainwash them to commit crimes.
President Kenyatta said he has grown up with Muslim friends and he has known Islam as a religion of peace that doesn't justify violence and racism.
"Which Quran are they reading? You are being poisoned and the only way we can resolve this problem is to unite," the President said amid applause from residents.
President Kenyatta alighted from his car and toured Marikiti Market where he was led on a tour by Mombasa Governor Ali Hassan Joho, Mvita MP Abdulswamad Shariff Nasir and more that 10 other Coast MPs.
President Kenyatta addressed the traders outside the market before walking through the narrow streets of the Old Town up to the old port.
He then walked from the old port to Fort Jesus followed by hundreds of cheering residents. President Kenyatta is the first Head of State to pass through the narrow streets of the old town.
Devolution Cabinet Secretary Anne Waiguru said the NYS project has now reached 64 constituencies and has employed more than 70,000 youth.
Savings made by those engaged in NYS youth empowerment projects now stand at Sh500 million, she said.
Mining Cabinet Secretary Najib Balala told locals that lack of employment can never be used as justification for abusing drugs or engaging in violent crimes.
He said misguided people were spreading a false religion to recruit youth into terrorism.
"We are Muslims and Islam doesn't justify killing of innocent people," he said.
The Mombasa Governor said it was time for residents of Mombasa to take control of their destiny and wipe out the use of illegal drugs.
"This town is your town and you have to wake up. We did not have to wait for the President to come to make us realise that we have to take action," he said.
The Governor said he will lead local leaders, residents and police in identifying and flushing out drug peddlers, suppliers and barons from within the community.
Joho said the NYS programme is a noble project and called on the local people to invest well the money they earn from their jobs.
President Kenyatta earlier held a meeting with local leaders at State House, Mombasa.
Photos: President launches NYS projects at the Coast