Death & Funeral Announcement of Dr. Samuel George Okelo Obong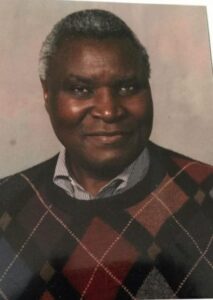 It is with great sadness that the Obong family announces the passing of Dr. Samuel George Okelo Obong of Nyakach Koguta, Kisumu County on Tuesday the 6th October 2015 at Holy Cross Hospital Silver spring Md. George was husband to the late Marie Noelle  Obong, Father to Theresa, Jorim and Michael Obong. He was brother to the Late Joseph Guya, Anna Amolloh, the Late David Obong, Phoebe Nyandiko, and Molly Obong (Adelphi Md.). He was uncle to Ken Amolloh, Gladis Obong, Judy Obong, Edwin Obong, Malabi Abwao, Chasia Abwao, Theresa Amolloh and Theresa Abwao all of Maryland USA . George leaves behind many grandchildren in Kenya and the USA. He will be greatly missed.
The wake will be on Friday 23rd October 2015 from 7pm to 9pm at Francis J. Collins Funeral Home – 500 University Boulevard West, Silver Spring MD 20901.
Funeral will be on Saturday 24th October 2015 from 9am to 12pm at Grace United Methodist Church – 7001 New Hampshire Ave, Takoma Park MD 20912.
Interment will be from 1pm at Gates of Heaven Cemetery – 13801 Georgia Avenue, Silver Spring MD 20906.
There will be a repass at Grace United Methodist Church from 2.30pm.
Kindly keep the family in prayer as we all prepare to give him a deserving send off.
With strength and grace he embraced us all, we will miss him dearly
For more information, contact:
Molly Obong                      240 528 0058
Kennedy Amolloh              484 221 3838
Gladis Obong                     240 353 8747
Edwin Obong                     301 512 9018