DPP has summoned Raila over Ruto case, says Duale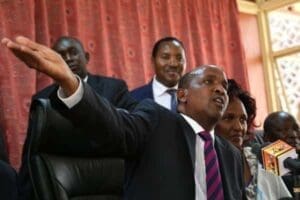 Over 100 Jubilee MPs kept up pressure on Opposition leaders mentioned in the 'fixing' of Deputy President William Ruto at the International Criminal Court (ICC) Sunday as the prayer rallies moved to Meru County.
National Assembly Majority Leader Aden Duale said four politicians including Opposition leader Raila Odinga had been directed by the Director of Public Prosecution (DPP) to record statements to shed light on the ICC case facing Ruto and his co-accused Joshua Sang and should oblige.
Mr Duale, who led the 120 legislators at a prayer rally in Meru town, named the other politicians as Narc Kenya leader Martha Karua, Kisumu Senator Anyang' Nyong'o and Gatundu South MP Moses Kuria.
"We hope that the three Opposition leaders will honour the summons if they are committed to seeing Ruto set free," said Duale, adding: "It is surprising that the Opposition claims Uhuru and Muthaura were overwhelmingly assisted by the Government to beat their cases, without a word of what the Orange Democratic Movement wing of the Grand Coalition government did for Ruto and Sang; who are seen as having been in its wing."
Crocodile tears
He said they are required to write statements in light of their recent pronouncements regarding the cases of Ruto and Sang.
And separately in Nairobi, the raging debate got murkier after Opposition leader Kalonzo Musyoka's name was dragged into the controversy, with Starehe MP Maina Kamanda claiming the 2011 shuttle diplomacy by the then vice president was a classic case of shedding crocodile tears.
Kamanda said Mr Kalonzo's forays into world capitals to lobby for support in the cases against President Kenyatta and his deputy was not a genuine undertaking as he too had his eye on succeeding former President Mwai Kibaki. "When your enemy comes to see you on your sick bed, don't think that he has come to wish you well. In real sense, he wants to see if you will live or die," said Mr Kamanda.
Mr Kuria, who began a national debate by sensationally claiming that the former ruling Party of National Unity, which he worked for, faked evidence to incriminate Ruto, confirmed yesterday at the Meru rally that he was prepared to give his statement to police and ICC investigators.
Duale took a swipe at the Opposition for seeking to scatter Jubilee and win power by seeking to paint Kuria's confession as the sign of a split between the ruling coalition in Mt Kenya region and Ruto's Rift Valley backyard.
"We want to tell them that the Jubilee game plan for the next two elections was completed long time ago and everybody should forget about taking advantage of recent developments to win the next polls. "They will be surprised when we win the next elections with a margin of three million votes," said Duale.
The majority leader said the Jubilee strongholds had seen through the Opposition's contradictions regarding how the Government had helped Ruto and Sang'sdefence as compared to its treatment of President Kenyatta and former Head of the Civil Service Francis Muthaura's cases at the ICC.
Duale said the Jubilee government would use all means at its disposal to ensure that Rule 68 of the ICC that allowed the use of recanted evidence was not applied to the Ruto and Sang cases.
He said the efforts would include taking a petition to the Assembly of State Parties of the ICC and at the United Nations Security Council
-standardmedia.co.ke