Kenya adopts ICC rule on prior recorded testimony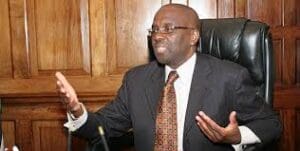 NAIROBI: Kenya has adopted the controversial International Criminal Court rule allowing the introduction of prior recorded testimony in a judicial trial.
Under the Witness Protection Rules, 2015, set to come into force on November 23, both the defence and prosecution have an equal chance to request for prior-recorded audio or video testimony to be admitted into evidence.
The same version of the rule at the ICC, Rule 68, is at the heart of a raging tussle between the ICC and the Kenyan state following its application in the case against Deputy President William Ruto.
Local political leaders and legal analysts supporting Ruto had have been faulting the legal theory behind the rule, saying it violates principles of justice and fair trial.
Chief Justice Willy Mutunga gazetted the Kenyan version of the rule (Rule 12) on October 23 and it is set to become operational in 30 days. Mutunga's rule is, however, silent on whether the ruled can be used retroactively. The rule sets two conditions: Both the prosecution and the defence must have examined the witness during recording if the witness is not present in courtroom. If the witness is present in the courtroom, he or she must be ready to be examined on the evidence by both sides.
-standardmedia.co.ke