OUR DAUGHTER WAS NOT ELECTROCUTED BY EARPHONES, BEREAVED FATHER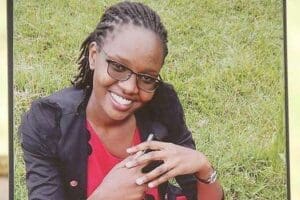 A mourning father used a funeral service on Friday to condemn social media users for spreading falsehoods about the cause of his daughter's death.
Mr Kiplimo Rugut, the Secretary in the Sports ministry a former National Youth Service Director, told relatives and friends that his daughter Leslie Chepkoech died from heart failure and not by being electrocuted by earphones — a rumour that was shared widely in social media.
Addressing a gathering at his home at Lessos in Nandi County, Mr Rugut said social media speculators should have consulted the family before they shared the information.
AUTOPSY RESULTS
"I want to state categorically that my daughter was not electrocuted. Doctors conducted an autopsy and told us that she had died from heart failure," said Mr Rugut, a former provincial commissioner.
"People have come up with speculation about the cause of her death including being electrocuted while using earphones. There was nothing like that. It is not good to spread information which may lead to double tragedy."
During a function to raise funds at the All Saints' Cathedral in Nairobi last Wednesday, Mr Abraham Limo, who is a cousin of the late Leslie, told the gathering that indeed she had earphones on when she was found dead in her bed.
Mr Limo said that despite the fact that the phone was connected to the charger and that it had rained that night, there was nothing to show electrocution or being struck by lightning.
"Post-mortem investigations showed that she never struggled in death. There was no sign of struggle on her face," Mr Limo said.
ORGANS INTACT
According to Leslie's father, all her organs were intact at autopsy.
"Her lungs, uterus and brain were normal. She suffered a heart failure. We asked the doctor what happened and he said it happens.  I can't fault God, we have accepted it, we can't appeal against it," he said.
Messages that had spread last week on WhatsApp and Facebook, among other social media platforms, implied that it is the earphones that had electrocuted her.
"Please warn your children against charging phones with earphones on," said the last sentence of one such messages.
During the Wednesday evening event, Mr Limo narrated how the girl's mother found her dead when she went to her room, concerned that she was taking too long to wake up.
"She found Leslie asleep. Leslie is still sleeping," Mr Limo said.
Leslie, who had celebrated her 22nd birthday on July 31, was to graduate in December from the University of Nairobi, where she was a law student.
-nairobinews.nation.co.ke