Photos:Meet the White Lady Conned Sh. 3.9 Million by Kenyan Husband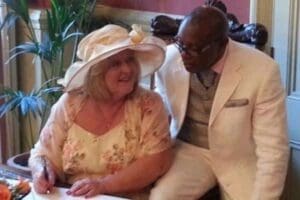 Judith Stillwell's story has gone viral on social media, after the sixty one year old woman narrated a story of how she got conned Sh.3.9 million by her Kenyan husband. As the story goes, Judith met Ovi Elias on an online dating site where they socialized before meeting up and marrying later on.
After their marriage in London, an opportunistic and money-minded Elias started looking for ways through which he would extort cash from his white wife. Claiming that he needed funding to attend 'urgent meetings', his wife, Judith, gave him up to £25,000/- only to realize that he had other 47 women around the world he used to see.
Although she learnt too late of his husband's infidelity, she divorced him and she has now resolved to air the man's dirty linen in public in a bid to shame and tame him. Well, I guess love is sometimes very complicated.
Anyway, below are photos of 61 year old Stillwell and his ex-husband Ovi Elias.
– nairobiwire.com