Video:Dr.Teddy join Kenyan Bishops and Pastors in a choir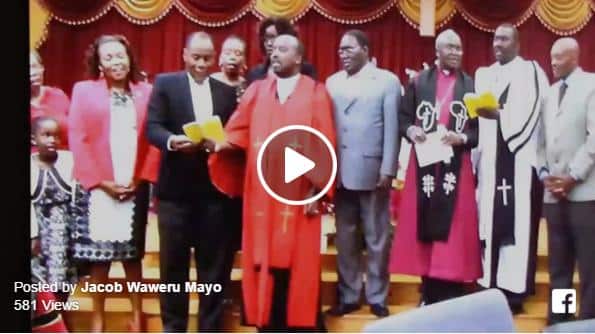 These Three things: Family, Friends and . . .?
They call Michigan Avenue in Chicago the magnificent mile. It diverts from lakeshore drive and presents the tourist and the die hard Chicagoans the best in shopping variety. Here Michael Jordon is known to have gotten his suits. However, it is not the magnificent buildings and the beauty of the architecture that makes the most noise. Situated right at the start of the street from lakeshore drive is Fourth Presbyterian Church. Shrubs cover its stature and it is easy for the tourist to miss, because the John Hancock building calls you to the 95th floor!
On Sunday morning, the 4th Presbyterian fills with worshippers who like me enjoy the magnificent pipe organ. The pipes cover the wall behind the 'mathabahu' with absolute elegance that calls one to the old Hymns! "Praise God from whom all blessings fall, praise him all creatures here below, praise him all of ye heavenly hosts. Praise Father, Son and Holy Ghost . . . AMEN" The sound of the organ echoes in this old cathedral before the minister stands to proclaim the gospel from a pulpit reflecting the 1600s. The kind Martin Luther, the reformer used. Majestic!
Those old hymns and cathedrals remind me of those old friends. I have several of them who date back in time. Few, but priceless friends. They are the kind you do not pass on your way to wherever. In fact they, you do not call because to them it is an insult to call. We use the old Kenyan way of just showing up. You even know where they keep the key in case they are not home.
Passing through Atlanta Georgia over the weekend, a good Reverend and I decided to stop by old friends. We found that they were having a celebration of one of their pastor's ordination. Traditional Africa Inland Church ordination is so vigorous they had to go to Kenya to receive it. Therefore we were just actuating the event at the Kenya America Community Church. An old fellowship qualified as an old friend because the pastor is one consistent shepherd: He represents historical, reliable, and consistent faith. A breath of fresh air in a generation of suit case churches!
To celebrate Rev. Gideon Robi's and Pastor Samuel's ordination and licensing, we, traditional Africa Inland Church ministers stood to remember those good hymns. We sung that hymn whose appeal stands like a traditional family, or an old friend whose comfort is priceless! Just like the cathedral on Michigan Avenue in Chicago, priceless!
Teddy Njoroge Kamau (PhD). HTBluff Associates. An EMG Consortium. Diaspora Messenger Senior Columnist. [email protected]