Keter storms Waiguru's questioning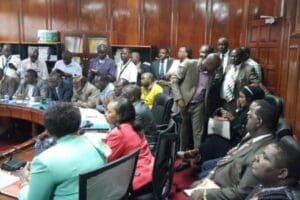 Nandi Hills MP on Wednesday stormed a committee's meeting and asked its members to compel Devolution CS Anne Waiguru to resign.
Alfred Keter walked in and started questioning Waiguru on the alleged misappropriation of funds in her ministry and the National Youth Service.
Keter asked the Public Accounts Committee to accept him in the meeting as a friend of parliament.
"Waiguru is misleading the committee. When the CS said she was blowing the whistle was she an accounting officer then?" posed Keter.
PAC meeting had earlier stalled after it emerged that Waiguru was not formally invited for questioning.
The Clerk's office insisted the meeting with Waiguru will be non-procedural as it appears she was summoned through the media.
Chairman Nicholas Gumbo had asked Waiguru to come to the committee for questioning, but an official communication was not sent to her.
This comes hours after Waiguru said she will not step aside after revelations of absurd expenditure of Sh8 billion by her ministry.
"I will not resign. Ask my procurement and accounting officers about the extravagant spending," Anne Waiguru said after a function at KICC on Wednesday.
"I have nothing to do with procurement duties. We do not get involved nor do we look at the price list."
Waiguru said she is required by the law to heed to the summons by Members of Parliament but will only answer questions in regards to her role as the CS.
"I will go to parliament but I cannot present the accounts of the ministry because am not the accounting officer," she said.
Waiguru said should PAC determine an issue in the ministry, the relevant offices will be investigated.
This comes after Nandi Hills MP Alfred Keter asked the CS to resign or face eviction from office.
Keter said he had collected 40 more signatures needed to impeach Waiguru over scandals surrounding her ministry and the NYS.
Waiguru was summoned by Jubilee MPs over the continued expose of misappropriation of funds and is expected at the party headquarters in Nairobi.
Earlier, the CS decried "personal attacks" over claims the money allocated her ministry was spent on inflated-price purchases.
On Tuesday, the committee received an asset register stating that the ministry spent Sh450,000 for 18 custom-made condom dispensers and Sh1.7 million on a screen in CS's office, during the 2013/2014 financial year.
– the-star.co.ke