NYS Director General Nelson Githinji steps aside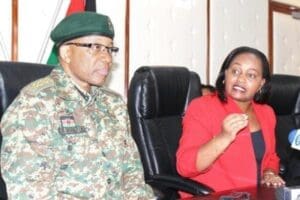 National Youth Service (NYS) Director General Nelson Githinji has stepped aside, hours after Director of Public Prosecutions Keriako Tobiko ordered for his prosecution over allegations of fraud.
In a statement sent to media houses on Monday, Githinji said he had decided to step aside in order to allow him to focus on protecting his "long record of selfless public service."
"I take this opportunity to thank our President and Deputy President for their faith in giving me this patriotic assignment. I give them my assurance that in the fullness of time, the judicial process will show that I was faithful to my oath of office and never let them and the country down," stated Githinji.
Githinji pointed out that he learned of Tobiko's recommendations through the media adding that his conscious is clean.
"With a clear conscience, my respect of the rule of law and our Constitution and with my abiding faith in our judicial system, I have decided to step aside as the Director General of National Youth Service," he said.
The announcement comes after DPP Tobiko ordered for the prosecution of Githinji, Devolution PS Peter Mangiti, and businessman Benson Muchemi over allegations of fraud at NYS.
Tobiko accused the three of tampering with a public officer by trying to prevent NYS Senior Deputy Director General in Charge of Administration, Adan Harakhe, from reporting the loss of Sh695,400,000 to the Directorate of Criminal Investigations.
The DPP also accused the three of threatening and intimidating Harakhe with unspecified consequences if he proceeded to withdraw from the Integrated Financial Management Information System (IFMIS).
Tobiko also ordered the prosecution of 23 Devolution Ministry officials for allegedly stealing and conspiring to defraud NYS of the sum of Sh791,385,000, contrary to section 317 of the Penal Code.
Regina Mungai, Fredrick Nachiche, Josephine Kabura, Peter Otwoma, Hendrick Pilisi, Ben Muchemi, Samuel Wacheje, Jane Wangechi, David Alunga, Titus Libondo, Chemos Ndiema, Naftali Githinji, Ruth Hihu, Charles Nyaachi, Mary Mbuthia, Ezekiel Kamau, James Kanuthi, Samwel Kilonzo, Philip Otunga, Jennifer Mugure, Rhoda Makau, Joel Karenju and Francis Kariuki are the officers set to face prosecution under this offence.
The officials have also been accused of engaging in criminal activity and abuse of office.
Regina Mungai, Josephine Kabura, Peter Omari and Caroline Njambi, who are the proprietors of Form Homes Builders, Roof and All Trading and Reinforced Concrete Technologies, Dracol Capital, Grumum Engineering and Tegmen Trading, are also set to be prosecuted for fraud, engaging in organised criminal activities and abuse of office.
Regina Mungai and Hendrick Pilisi were also accused of making false documents contrary to section 347(A).
The DPP further directed that EACC and the Asset Recovery Agency initiate proceedings to recover the stolen funds, and ordered investigations into possible money laundering offences.
The statement signed by Senior Assistant Director Public Communications Beatrice Omari comes in the backdrop of growing pressure from both CORD coalition and members of the civil society for the resignation of Devolution Cabinet Secretary Anne Waiguru over corruption.
Waiguru has been urged to take responsibility over the fraudulent transactions at the NYS, a department under the Devolution Ministry.
The CS was also on the receiving end after reports emerged that the ministry had procured 18 male and female condom dispensers at a cost of Ksh450,000 and bought 20 ball point pens at Ksh 174,000 among other things.
Waiguru, however, distanced himself from the allegations saying her role as the CS does not entail making requisitions and procurement, shifting the blame to Devolution PS Peter Mangiti.
Appearing before the Parliamentary Accounts Committee (PAC), Mangiti denied the allegations saying the list of purchases in the public domain was erroneous.
-citizentv.co.ke