Ongata Rongai Girl wins Sh22 million to complete secondary school in America
Ongata Rongai Girl wins Sh22 million to complete secondary school in America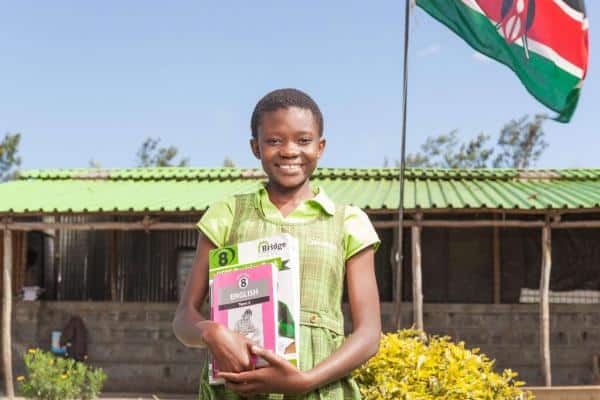 In a small market lined road in Ongata Rongai, a young girl in a bright green uniform walks to school beaming. She has every reason to be smiling — she has just been awarded a Sh22 million scholarship to complete secondary school in the United States.
Meet Josephine Mweni Nyakundi, the class eight head girl of Bridge International Academies in Ongata Rongai, who will leave Kenya in December to begin her life long dream to study in the United States.
Josephine was selected from Bridge's top performing class eight students to interview for a full scholarship to The Rabun Gap School, an exclusive boarding school in Georgia. Rabun Gap was amazed by Josephine's eloquence, confidence, academic achievements and leadership skills and decided she would make the perfect fit in the United States.
The scholarship from Rabun Gap will cover full tuition and boarding fees for four years, while Bridge International Academies will cover airfares to the United States, casual and formal clothes, a mobile phone and computer, and housing during school holidays. When she returns to Kenya each summer, Josephine will tutor other pupils in Ongata Rongai, with the hope that more children will have the opportunity she has.
"It is a dream come true," says Josephine, who arose daily at 4.30am to study before getting to school at 6am, to prepare for KCPE. "I studied hard, I always asked my teacher questions and I learnt from my mistakes," she says, noting that Bridge prepared her through special KCPE revision books and flash cards.
But mostly she credits her success to her teachers at Bridge, who showed her constant support and encouragement. "The teachers at Bridge played a very big part in my motivation," she notes.
In turn, Josephine's teachers express their great pride in their star pupil. "Josephine is extremely hardworking and courageous," says teacher Elisabeth, Josephine's English and social studies teacher. "She is determined and always stands up for what she believes in."
"I am really excited, I am so happy. I am really proud of her as are her classmates," says Elisabeth, who has taught at Bridge for four years. "Josephine uses adversity to motivate herself and others. She is a natural born leader and I am excited to see what she will do in the future."
Josephine knows that going to the United States won't be easy, but she shows the same characteristic determination to succeed in this new challenge. "I am both excited and nervous to go to America," she says. "Everything will be so different. I will miss the warm weather and the food in Kenya."
The Bridge team is already preparing her for the move, introducing her to American culture and cuisine.
Her parents are still in a state of shock, feeling both incredibly proud of Josephine and anxious for her. "When they first told me, I thought it was a joke," says her father, Samuel Nyakundi, "but when I realised it was true, I just focused on what an incredible opportunity this is for Josephine."
Although they are completely wowed by the scholarship, they are not surprised. Her mother Caroline Nyakundi notes, "Josephine is the type of child that never needed to be asked to do anything —  I would go to ask her to sweep the floor and realise she had already done it. She is such a motivated and giving child."
Most importantly, Josephine and her parents know that this is an opportunity for Josephine to gain valuable experience and skills that she can then bring back to Kenya. "I know that this experience will teach Josephine to stand on her own two feet and become a leader in our community," says Samuel.
As for Josephine, she has high hopes for the future. "After Rabun Gap I would like to go to Harvard University and study to become a neurosurgeon. I would like to come back to Kenya and build a clinic for brain surgery, so that everyone can get access to the surgery they need," she says. "Going to a secondary school in the United States will be a bridge to my success. It will move me one step closer to realising my dream of becoming a neurosurgeon!"
Bridge will be fundraising for Josephine's scholarship. Please see their website www.bridgeinternationalacademies.com and twitter account @BridgeIntlAcads for more information.
Ongata Rongai Girl wins Sh22 million to complete secondary school in America