2017 Elections:Uhuru widens gap over Raila, Ipsos poll shows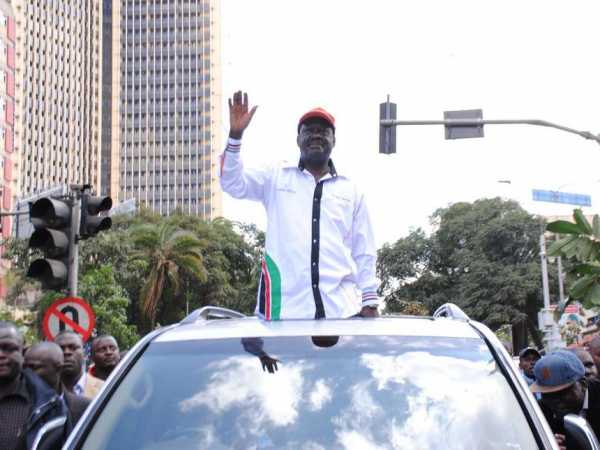 PRESIDENT Uhuru Kenyatta's popularity compared to Opposition chief Raila Odinga's regarding the next election has increased considerably over recent months, a new survey shows.
The poll, by research firm Ipsos, indicates Uhuru has recovered from the fall in popularity he had suffered as of Ipsos' survey in November of last year. At that time, his government was suffering a number of serious problems, including blame for the teachers' strike that saw schools completely shut down, and the revelation of several high-profile corruption scandals.
According to the poll, conducted during from June 4 to 18, 51 per cent of Kenyans would vote for Uhuru, with only 28 per cent saying they would cast their ballot for the former Prime Minister, a gap of 23 percent. This compares with figures of 40 per cent and 29 per cent in Ipsos's November poll, which amounts to a gap of just 11 per cent.
Deputy President William Ruto, Wiper leader Kalonzo Musyoka and his Ford Kenya counterpart Moses Wetangu'la come a distant third, with only 2 per cent support.
12 per cent of Kenyans however remain undecided on who they would vote for, with all other presidential hopefuls getting a total of only 2 per cent.
Moreover, when those who are undecided are excluded from the poll, the adjusted survey shows Uhuru with a significantly larger margin: 58 per cent against Raila's 32 per cent. The comparable figures last November were 47 per cent vs 34 per cent.
Looking back even further, Uhuru's current popularity margin is close to what it was in April of last year (48 per cent to 23 per cent for Odinga).
The latest statistics suggest that Uhuru would secure an outright Round One victory – without a runoff as other pollsters have recently suggested.
The survey come just days after the Cord honchos staged a series of anti-IEBC demos across the country, demanding sweeping electoral reforms including the sacking of electoral commission chiefs.
At the 2013 general election, Uhuru was declared winner with 50.07 per cent of the vote against Raila, the Cord flagbearer, who garnered 43.31 per cent.
According to statistics unveiled by the pollster, Uhuru has maintained an average lead of about 20 per cent over Raila for the past two years.
Ipsos Lead Researcher Tom Wolf cautions, however, that until Cord actually names its presidential candidate and running mate, these figures should not be interpreted as reflecting an actual election outcome.
Dr Wolf noted, "While it is certain that Uhuru will be Jubilee's presidential candidate and Ruto his running mate, there remains uncertainty as to who will be Cord's torch-bearers and whether its leaders will remain united after the decision is made. As such, these numbers
could change dramatically after Cord has identified its presidential ticket."
It is exactly 406 days to the August 8, 2017, polls.
In the same survey, respondents were asked: "Whatever your own political position, how likely do you think it is that Cord could possibly defeat Jubilee in the next election?"
In response, only 22 per cent of Kenyans believe that it is "certain or very likely" that Cord could beat Jubilee – with 41 per cent saying it is "very unlikely".
In terms of the country's main political divide, while 46 per cent of Cord supporters said they believe that the Opposition would beat Jubilee in 2017, only 8 per cent of Jubilee supporters hold this view.
On the other hand, 67 per cent and 11 per cent of Jubilee and Cord supporters, respectively, said it is "very unlikely" that Cord would beat Jubilee, while another13 per cent are not sure about this.
These results, obtained from questions loaded onto Ipsos's most recent survey exclusively for the Star, indicate that 75 per cent of the Cord supporters would vote for Raila.
Only 4 per cent of the Cord supporters currently back Kalonzo or Wetang'ula's presidential bids.
Raila, Kalonzo and Wetang'ula are however still tussling for Cord's presidential ticket but if the findings of these results are anything to go by, the ODM leader is a clear favourite.
On deputy president running mates for the election, 87 per cent of the respondents who would vote for Uhuru want him to stick with Ruto in 2017.
However, among Raila's supporters within Cord, 57 per cent prefer Kalonzo as Raila's running mate compared to 23 per cent of respondents for Wetang'ula. Curiously, 3 per cent of those who would vote for Raila support Ruto as his running mate.
Among the 2 per cent who would vote for Kalonzo, 51 per cent thought Raila should be his running mate.
Ruto, who commands an enormous following in the Rift Valley, has always declared that he will back President Kenyatta in his re-election bid in 2017 and then stand for State House himself in 2022.
The latest statistics would be music to the ears of those in Uhuru's political think tanks who have insisted their boss shall win the presidential contest in the first round with a much larger margin than was the case in 2013.
In March this year, State House issued a furious rebuttal to an Infotrak poll that indicated that Uhuru would only get 45 per cent on the first round, as compared to 28 per cent for Raila, and was therefore likely to face a runoff.
A furious State House Director of Communications immediately issued a statement rubbishing the Infotrak poll.
"This fantasy will come to fail: President Kenyatta continues to serve the people of Kenya. With the ongoing transformation in the country, he will soar above the 2013 numbers," declared Munyori Buku.
2,076 respondents were interviewed for the survey, with a margin-of-error plus or minus 2.15 per cent.