Raila says he has nothing personal against Waiguru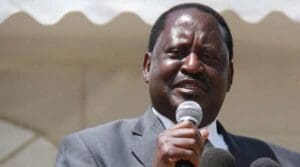 NAIROBI, Kenya, Nov 23 – CORD leader Raila Odinga says he had nothing personal against Anne Waiguru who on Saturday resigned as Cabinet Secretary for Devolution and Planning.
Speaking in Kisumu, Odinga said the move will pave the way for thorough investigations into the loss of millions of shillings in the ministry.
"There was need for the Minister to step aside to facilitate investigations. I also said that did not mean that she was guilty anyway," he said.
"It was necessary for her to do that to allow proper investigations to take place," he stated.
"That could not happen when she was in office. You also saw how the security agencies found it very difficult to do their work properly."
The CORD leader further indicated that security agencies were unable to conduct a free and transparent investigation when she was still in office.
"We have a case where the Director of CID prepares her report and hands it over to her when she herself is still sitting in office. EACC is also handing over their report to her when she should be a suspect. I am happy that at least finally she has done so but this is not the end of the battle against corruption," he stated.
Waiguru bowed out on Saturday, months after intense pressure from leaders and the public to quit the ministry in the wake of numerous scandals, which she admits were rampant at the powerful ministry.
In an emotional speech to the media Waiguru said she made the decision to quit due to health reasons following pressure over recent revelations of grand corruption in her docket.
The outgoing CS said she was however ready to undertake lighter responsibilities if asked to do so by the appointing authority.
-capitalfm.co.ke