A KENYAN IS AMONG TOP MOST TALENTED AFRICAN ENTREPRENEURS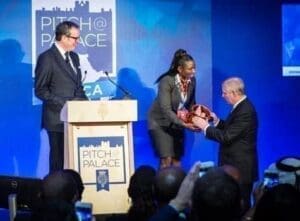 MRS. PEREZ OCHIENG SELECTED AS TOP MOST TALENTED AFRICAN ENTREPRENEURS
Winning African Entrepreneurs recognized by HRH Prince Andrew, Duke of York KG partnership
Perez Ochieng, who is an accountant, and has received several business accolades, as well as being a winner of the Global Women Innovators /Inventors award, said she was honoured to receive this award which would help to bring inspiration to others. She aims to create 2000 jobs and inject $1m into the local economy through her growing business, which produces sweet potato products, handling 100,000 metric tonnes of produce. Perez thanks the County Government of Kericho Prof. Chepkwong, for supporting the initial infrastructure  for growing the sweet potatoes commercializing as an example to showcase the potentials that still lies in the Africa Agriculture sector together with the Greenwich University (NRI) that have supported with the research and technology for post Harvest Handling.
From 2017, I hope to replicate this business Model to  lift over 20,000 Kenyan small holder farmers out of extreme poverty, integrating farmers into commercial marketing channels that allow for differentiation," Perez said. "Winning the AEP provides me with the opportunity for ongoing mentoring, which is a resource that greatly outweighs the befits of cash in hand. As I get mentorship, I get to learn more and apply the knowledge, creating a ripple effect, to make change happen and to get to connect with financial stakeholders and networks." HRH, former Nigerian President Olusegun Obasanjo and MrAliko Dangote, Africa's most successful entrepreneur, will provide ongoing support for Perez and for the young businesses and entrepreneurs selected by the Programme.
"By showcasing these three talented young business leaders, we can ensure they get maximum exposure to international investors to help them achieve their business goals," said Olusegun Obasanjo. "This is a great opportunity to support Africa's growth and develop its workforce through the AEP."  MrAliko Dangote added: "As an entrepreneur myself, I recognize the value of our AEP partnership in helping Africa's rising young business talents in this way." Paul Sinclair, director of TGAIS, added: "The Programme is greatly honoured to have The Duke of York's commitment to support entrepreneurship in Africa, as well as the backing of such an eminent team which could help to bring change to poor communities in Africa through enterprise and trade opportunities."
The three talented entrepreneurs selected from entries across Africa, presented their business proposals to an audience of potential investors, mentors and CEOS at a special '[email protected]'event at St James' Palace in London on the 1st December 2015.  As well as receiving mentoring, they will benefit from international recognition and marketing as being among Africa's most promising  and viable investment opportunities.  The top three were: Perez Ochieng, SACOMA –Kericho Food Park, Kenya
About the African Entrepreneurship Programme (AEP)
The Africa Entrepreneurship Programme is an initiative of The GlobalAfrican Investment Summit (TGAIS) that aims to support the next generation of African business leaders and entrepreneurs and is expected to play a crucial role in the economic transformation of the continent through the support ofemerging businesses and entrepreneurs that require capital to progress theirbusinesses.Last year's TGAIS attendees attracted 235 billion USD worth of managed funds.www.tgais.com.
-misterseed.com