Full List:The top students in 2015 KCPE exams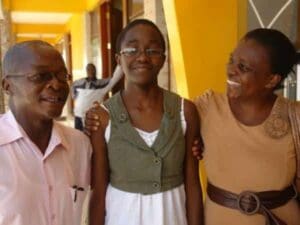 About 7,560 of 937,467 students got more than 400 marks in the 2015 KCPE exam whose results were announced on Wednesday.
In a breakdown of the results at Mtihani House on Wednesday, Education CS Fred Matiang'i said 201,986 students attained marks between 301 and 400.
Some 499,568 scored between 201 and 300, 215, 614 from 101 to 200 marks and 3,061 less than 100 points.
Matiang'i noted that the number of students who attained at least 250 points increased from 436,814 in 2014 to 455,590 in 2015.
He said a slight improvement was registered in English language, Mathematics and religious education.
Religious education recorded the highest mean score of 70.2 per cent and English the lowest at 41.38 per cent.
"The poor performance of candidates in English Composition is worrying because it means that learners lack the ability to creatively and coherently express themselves in prose," he said.
He urged parents and teachers to encourage the reading culture.
Matiang'i noted that teaching challenges in Northeastern following a series of attacks by al Shabaab did not affect students' performance.
Teachers working in the region refused to return to work after 28 who were on their way to Nairobi for the holiday were killed in a bus attack in November 2014.
The mean scores for counties in the region were 176.86 up from 173.68 (Garissa), 183.49 up from 175.34 (Wajir) and 173.68 up from 151.97 (Mandera).
Top performers in the examination include:
1. Aggrey Anyinya – 449
2. Wilson Muraga – 446
3. Timby Marren – 446
4. Felistas Osebe – 445
5. Naomi Gakoi – 442
6. Margaret Amwai – 441
7. Prefor Bilhange – 441
8. Daniel Ngira – 441
9. Ashley WangaAri – 440
10. Sherry Amondi – 439
11. Stephany Kadeka – 439
12. Sabina Mutuku – 437
13. Tom Oduo – 437
14. Triza Aduda – 437
15. Janet Wanjiru – 437
16. Gabriel Wairagu – 435
17. Shammah Godfrey – 433
18. Brydgets Mwaniki – 433
19. Lauryne Koki – 431
20. Dennis Maikoki – 423
-the-star.co.ke