How Late Dick Wathika United Uhuru And Sonko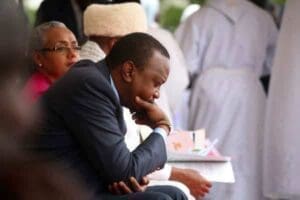 President Uhuru Kenyatta has mourned the sudden death of former Makadara Member of Parliament and Nairobi Mayor Dick Wathika.
The head of state visited Wathika's family at his Kigwa Ridge home where he condoled with the family and paid tribute to the deceased.
The president described Wathika as a politician who never harboured grudges to his political competitors and was always at peace with even those who defeated him in elective posts.
Uhuru then revealed how Wathika introduced Nairobi Senator Mike Sonko to him just after Sonko defeated him (Wathika) in an election for Makadara MP.
"He was a person who never kept grudges and if all leaders in this country had the character of the late Wathika, Kenya would be like paradise," said Uhuru.
He described the late as a personal friend whom they interacted with and shared ideas.
Sonko, who accompanied Uhuru to the deceased's home also paid tribute to him, saying how he never took issue with losing the seat to him.
"He was a peacemaker. He was always humble and jovial but also very courageous," Sonko said.
Other leaders who accompanied Uhuru were MPs, MCAs and former councilors.
Wathika died on Saturday December 19, 2015 reportedly while seeking medical attention.
The former mayor who was in office 2004-2007 is said to have been taken ill Saturday evening, and was rushed to the Karen Hospital, where they pronounced him dead.
Following his mayoral term Wathika vied for the Makadara MP in 2007 and won, before his election was nullified in 2010 by a court ruling.
Former Makadara MP Reuben Ndolo (2002-2007) had challenged Wathika's win in court, after which Justice Kalpana Rawal ruled that Wathika was not fairly elected.
Wathika lost the by-election that ensued, with the seat being clinched by Mike Sonko.
Image: Star
-tuko.co.ke