Is your name on the Jamhuri honours list?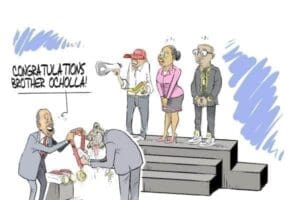 Happy Jamhuri Day ladies and gentlemen. Unlike other countries that have opted to clean up their nation on this auspicious day for a country, we in Kenya shall be having our party. There will be a rally at the Nyayo National Stadium in Nairobi followed by a lunch on the lawns of State House. It will be at the events at the seat of power that there will be an announcement of those in Kenya who the government feels needs to be given special recognition. This is the announcement is Kenya's honours list.
I did some research and found out that these lists which don't tend to go with cash have such venerated names as The Order of the Golden Heart of Kenya, The Uhodari Medal, The Order of the Burning Spear, The Order of the Grand Warrior of Kenya, The Distinguished Conduct Order, The Distinguished Service Medal, The Silver Star of Kenya, and Head of State's Commendation. The names of these distinguished Kenyans have been compiled from organisations, government, civil society, corporations as well as individuals. Because of this you can expect to see quite a few names that many of us consider to be 'the usual suspects' like those constantly in the news or who those have been around the district to talk to his chums at the awards committee. As they take individual nominations, here are ours;
The Order of the Golden Heart of Kenya
The Viatu Mia Tano Man: No one knows who he is. He is the man whose voice blares out of many shops extolling pedestrians to walk in and buy shoes. You will hear him in his sing songy voice saying: "Wewe mama emevaa nguo ya blue ingia ndani! Wewe mama emevaa nguo ya manjano ingia ndani! Viatu mia tano tu! Uuuhh! Ahhh!! Mia tano! Viatu kutoka Turkeyyyeee! Viatu kutoka USA! Sssssss!!!!" (You lady wearing blue! You lady wearing yellow! Get in! Shoes at Sh500 only! 500! Shoes from Turkey! Shoes from USA!) He has brought the joy to many people's Christmas this year as retailers seen to have forgotten where their dusty Boney M CDs that kept inundating Nairobi streets since the 1970s leaving us in a permanent limbo. If Mtu Mia Tano Man isn't a golden heart I don't know what is.
The Uhodari Medal
Bro Ocholla: He was a man that wowed many when he posted a sexual message on a religious Whatsapp group. What more heroic thing than this?
The Order of the Burning Spear
The Kenya Meteorological Department: They promised us an El Nino and we were all disgruntled as we burnt in the city sun and envied the people making news in the other parts of the world as they were flooded out of our homes. After we nearly burnt to a crisp, the floods came but the world news cycle had moved on to Donald Trump. We never catch a break here in Kenya it seems.
The Order of the Grand Warrior of Kenya
Politics.co.ke: This is a satirical news site that invaded the Kenyan web space this year. If there was a story of an international personality allegedly throwing shade on the country, be it Zimbabwean President Robert Mugabe or Donald Trump, the American seeking his Republican Party nomination was the source. For bringing so much ire and making so many Kenyans go warrior-like, then this organisation wins this award hands down in 2015.
The Distinguished Service Medal
"Hon Steve Mbogo": This award will go to a Kenyan who burst onto the scene and this December caused many Kenyans to laugh in glee about his exploits at the "Grand pricks". The selfless way in which this individual put himself forward for our laughter surely has to be recognised by a nation under such stress?
The Silver Star of Kenya
Anne Waiguru, former Cabinet Secretary: It's been a hard year in Kenya and we needed to find an excuse for our failures as a nation and individual. This former CS has to be the Kenyan Silver Star for stepping forward in our time of need and offering our national stress ball. Need to complain that your son got an E in KCSE? Well your child is in a devolved county so that means it's Waiguru to blame. You overslept and are running late to work? Devolved county ergo Waiguru. While the pressure has been massive and she retired since, she still took her role graciously and without too much complaint.
– the-star.co.ke