Kenyan police holding Islamic State suspect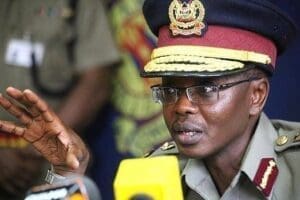 Police are holding a Kenyan woman linked to Syria's Islamic State terrorist group after she was deported from India on Jamhuri Day.
Ms Amina Mwaiz Muange worked in United Arab Emirates and had accompanied her employers to India, where she was arrested.
A Kenyan official told Nation.co.ke that authorities in seven countries had been monitoring her activities for months before "profiling her as a terrorist sympathiser."
"Earlier in the year while in Abu Dhabi, Amina had started visiting social media sites with links to ISIS in an attempt to find a way to go to Syria. In the course of this search she got in touch with ISIS supporters in India, Afghanistan, Burundi, Kenya and South Africa with whom she kept regular contact," a government report seen by the Nation.co.ke says.
Security agencies in these countries were put on alert and started sharing information about the woman and her acquaintances.
COMPLETE INVESTIGATIONS
"She was arraigned in court on December 15 and the police was given 30 days custody to complete the investigations," the report added.
In India, she was also linked to a Mr Siraj Mohamed who she is thought to have had a romantic relationship.
The man is on the watch list of Indian authorities because it is suspected he has ties with the terrorist group.
"This case illustrates the extent of global terrorism and how groups such as ISIS take advantage of vulnerable individuals to advance their cause," the report said.
It added: "It will take close cooperation between governments to ensure the protection of their vulnerable populations from exploitation by these groups as well as penetrate these networks.
The existing multilateral cooperation in the global war against terror is how Amina's arrest came to take place even as she travelled and communicated across borders."
Islamic State has established a territory traversing Syria and Iraq and is known for executing radical Sharia law and those it considers infidels are publicly beheaded.
Militaries of world super powers including the United States, France, Britain and Russia are fighting the brutal regime that has also carried out terrorist attacks in other parts of the world.
In Somalia, a section of Al-Shabaab terrorist group has pledged loyalty to IS.
-nation.co.ke