Rotich invites Raila for answers to Eurobond queries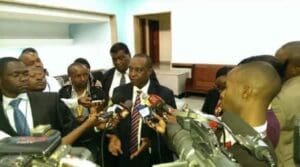 NAIROBI, Kenya, Dec 1 – National Treasury Cabinet Secretary Henry Rotich has invited opposition leader Raila Odinga for a meeting on Friday to respond to all his concerns over the Eurobond saga after he issued a 14-day ultimatum to be furnished with the information.
Rotich said he was willing to submit all the information in both hard and soft copies to the opposition leader's satisfaction.
Odinga had demanded full disclosure of expenditure, statements and account details showing the utilization of the Eurobond monies amounting to Sh250 billion and had written to four offshore banks based in the UK and the United Arab Emirates over the matter.
"We wish to know; into which bank did every respective Manager of the Eurobond credit the proceeds? What are the account numbers into which these credits were made? Under whose authority were these accounts opened? How many transactions were carried out through each of the offshore accounts from the date of opening of the account to the date of answering this inquiry?" he posed.
The opposition leader also demanded details of the proceeds of the Eurobond credited to the Consolidated Fund and a breakdown of how the monies were spent and what they were spent on.
Addressing journalists at a Nairobi hotel earlier Tuesday, Odinga who was accompanied by fellow CORD luminaries Kalonzo Musyoka and Moses Wetangula said they had thoroughly studied government documentation from the Treasury, the Central Bank and other oversight institutions and even reviewed the budget out turn for the FY 2013/14 and FY 2014/15 from the National Treasury and found that 'there was more than meets the eye'.
"From the reviews, it is clear to us that the greatest case of theft in Kenyan history is either underway or has already been concluded in one fell swoop in the name of Eurobond," he said.
Odinga further claimed the government cannot account for over Sh140 billion Eurobond cash stating that the government's books regarding the Eurobond did not balance and had been cooked.
"Given the lack of evidence of where and if the government has spent over a billion dollars, the contradictory statements of officials, and the very obviously cooked accounts emerging from different official departments, we are forced to the alarming and unprecedented conclusion that once again Kenyans are victims of a single case of theft that is without precedent in our history," he added.
While the government has defended itself over accusations of misappropriating the Eurobond monies, questions are still being raised over the actual amounts and whether the loan was totally beneficial to the country.
Just last week, the National Treasury expressed the intention to borrow another syndicated loan to be used for infrastructure development amid the chagrin of many Kenyans.
capitalfm.co.ke