University Of Nairobi Ranked Among World's Best Universities
University Of Nairobi Ranked Among World's Best Universities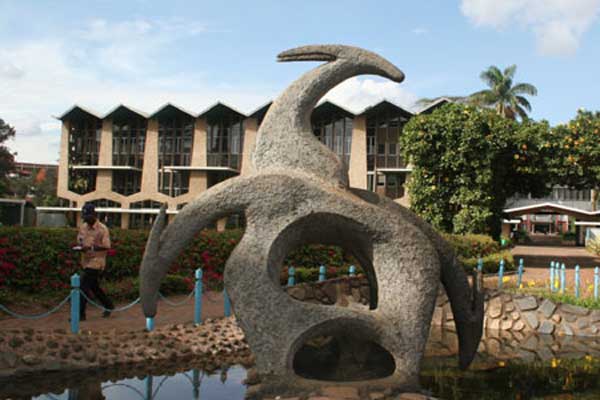 University of Nairobi has been ranked among the best 200 universities in the BRICS and emerging Economies in the World.
In a study conducted by the Times Higher Education, the University emerged position 174 out of 200 representing Kenya for the first time in the exercise.
Other countries that participated for the first time included Nigeria, Ghana, Jordan, Qatar and Oman while Egypt returned to the ranking, having had no institutions represented last year.
The 2016 rankings included 200 institutions from 35 countries, up from 100 from 18 countries 2015.
Times Higher Education World University Rankings Editor Phil Baty said the rankings are based on established and trusted thirteen performance indicators used to create the annual Times Higher Education World University Rankings.
Mr Baty added that they are specially calibrated to reflect the development priorities of universities in emerging economies.
"Kenya is one of several countries to have made its debut in this year's BRICS and Emerging Economies Rankings, with the University of Nairobi featuring in joint 174th place," he said.
He said all the core missions of the modern global university – research, teaching, knowledge transfer and international activity were considered.
The invitation-only academic survey, included responses from more than 10,000 senior academics in 2014-15 and research excellence were assessed through the examination of more than 11 million research papers up from six million last year with 51 million citations up from 50 million last year.
Arts, humanities and social sciences were placed on an equal footing with science.
China dominates the rankings this year with 39 universities, Taiwan came second with 24 universities and India was third with 16.
The best university was Peking University( China) followed by Tsinghua University (China), third was Lomonosov Moscow State University (Russia), fourth was University of Cape Town (South Africa).
Others were National Taiwan University (Taiwan), University of the Witwatersrand (South Africa), University of Science and Technology of China (China), Zhejiang University (China), University of São Paulo (Brazil) and Shanghai Jiao Tong University (China).
The indicators that were used in the ranking were research income from industry, academic staff, teaching – the learning environment, reputation survey – teaching, staff-to-student ratio, PhDs or undergraduate degrees awarded, PhDs awarded and academic staff.
The study indicate that Brazil, Russia, India and China all gained strength while South Africa maintained a strong performance from six institutions – while Chinese dominance proved that investment and political will are vital ingredients underpinning university success .
The BRICS markets gained strength this year and a number of nations outside the BRICS also had a good year.
Chile had six institutions represented in the two last year while Colombia had two universities included in one last year.
The National autonomous University of Mexico (23rd) is the highest ranked Latin American institution outside Brazil.
In South Asia, seven Thai universities were ranked three last year; Malaysia was represented by four universities one last year and institutions from Indonesia and Bangladesh are included for the first time.
European countries that made their debut in the 2016 ranking include Romania, Slovakia, Slovenia, Lithuania, Estonia, Serbia, Cyprus and Greece.
The Times Higher Education is fully independent – not funded or commissioned by any government, agency or organisation associated with any of the countries being assessed.
The overall world rankings weightings specially reformulated to better reflect the development priorities of universities in emerging economies
BRICS is the acronym for an association of five major emerging national economies: Brazil, Russia, India, China and South Africa while other emerging economies nations that were included are , Czech Republic, Hungary, Malaysia, Mexico, Poland, Taiwan, Thailand, Turkey, Chile, China, Colombia, Egypt, India, Indonesia, Pakistan, Peru, Philippines, Russia, UAE; Frontier: Bahrain, Bangladesh, Botswana, Bulgaria, Côte d'Ivoire, Croatia, Cyprus, Estonia, Ghana, Jordan, Kenya, Lithuania, Macedonia, Malta, Mauritius, Morocco, Nigeria, Oman, Qatar, Romania, Serbia, Slovakia, Slovenia, Sri Lanka, Tunisia, Vietnam.
Source-nation.co.ke
University Of Nairobi Ranked Among World's Best Universities