US presidential candidate Ben Carson to visit Kenya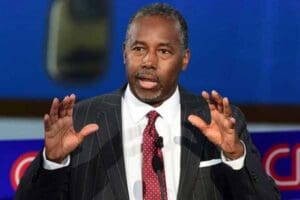 A Republican Party candidate for the US presidency said on Monday he plans to visit Kenya later this month.
Dr Ben Carson, a retired neurosurgeon, cited his East African ancestry as a key reason for the trip.
"My ancestors are from the Kenya-Tanzania region, the Turkana tribe. I've had all of that traced back," Dr Carson told a US radio talk-show host.
The 64-year-old candidate has seen his once strong support slip in recent polls of Republican voters from 22 per cent in October to 14 per cent in a survey released last week.
The rating places Dr Carson third among the 13 politicians seeking the 2016 Republican presidential nomination.
He trails businessman Donald Trump, who registered 36 per cent in the same poll, and Senator Ted Cruz, whose support stood at 16 per cent.
Dr Carson acknowledged on Monday that his lack of international policy experience may account for his drop in the voter survey.
His planned trip to Africa, which includes stops in Nigeria and Zambia, is seen as part of an effort to assuage doubts about his ability to lead the US on the world stage.
Dr Carson has made erroneous comments on some key foreign policy issues, suggesting, for example, that China is militarily involved in Syria.
In a speech to a US Jewish group last week, he mispronounced the name of the Palestinian militant group Hamas, calling it "hummus".
His claim that the Turkana people occupy "the Kenya-Tanzania region" appears to be another instance of confusion on Dr Carson's part.
The Turkana live in northwest Kenya near the borders with South Sudan, Ethiopia and Uganda –an area far from Tanzania.
Dr Carson said on Monday that in Nigeria, he intends to assess the nation's economy and the threat it faces from Boko Haram.
"Also, there's a medical school there named after me which I want to visit," he added.
Dr Carson said he will visit Zambia, which is the homeland of conjoined twins, Joseph and Luka Banda, whom he and his team of surgeons successfully separated in 1997.
"They were joined at the top of the head facing in opposite directions almost 18 years ago and this is the year they graduate from high school," he said.
He is scheduled to travel to Africa on December 27 and return to the US a week later.
-nation.co.ke