Baringo MP in a spot as son draws salary from CDF office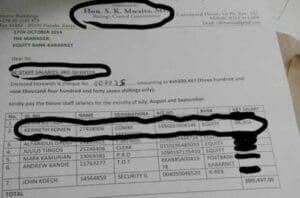 NAKURU: Baringo Central MP Sammy Mwaita's son has been drawing a salary from public coffers irregularly.
The MP's son is listed as the highest paid "officer" at the Baringo Constituency office based at Parliament Buildings in Nairobi, yet he is not an employee.
According to documents in our possession, Mr Kenneth Komen is listed as communication manager for the constituency office in Nairobi and earning a net salary of Sh98,004 every quarter wired to his account number 1450261606146 at Equity Bank.
"Enclosed herewith is a cheque amounting to Sh309,447. Kindly pay the below staff salaries for the months of July, August and September," reads the letter bearing the letterhead of the MP and which has been signed by Kevin Kiptala listed as manager.
The document bears a stamp and signature of the operation manager of Equity Bank, Harambee Avenue branch in Nairobi, where the cheque was cashed.
Others listed in the document for payment include Kevin Kiptala (manager), Alfarious Daudi (youth affairs), Julius Tingos (clerk), Mark Kamurian (public relations officer), Andrew Kandie (TOT) and John Koech, a security guard.
The payments also raise questions about titles of the holders of the office. For example the PRO earns a net salary of Sh30,000 per quarter translating to a monthly net pay of Sh10,000.
The position of communication manager in any organisational structure is inferior to that of a manager but in this scenario, Mr Komen draws a higher salary than his boss.
Constituency Development Fund (CDF) manager Michael Kones who is based in Kabarnet could not confirm the list of employees in the Nairobi office saying the MP was in charge. "There are two offices one in the constituency and another based in Parliament under the MP. I cannot confirm the employees in that office," said Mr Kones.
Mr Kiptala who is based in the Parliament office and listed as manager refused to respond to any queries. "I will call you back," he said before disconnecting the phone.
The MP's son confirmed he was not an employee at the constituency office and failed to clarify the salary payment.
"I have nothing to say," he said before disconnecting the phone.
Efforts to reach Mr Mwaita were fruitless as he did not pick calls nor respond to messages.
DISCREPANCY ON FUNDS
Meanwhile, the constituency's chief internal auditor Alice Wachira has raised the red flag over the expenditure funds.
Ms Wachira in an audit management letter dated June 19, last year and which covered 2012/2013 and 2013/2014 financial years for projects and 2014/2015 financial year for recurrent and other operating expenditure items reveals discrepancy on funds used and the projects on the ground.
Mr Kones, however, said the queries by the auditor were minor and had been satisfactorily clarified.
"That was a small issue and we cleared the matter. There is no problem now, everything is clean," he said.
The auditor in her report noted that CDF committee minutes were not attached to most of the payments authorised.
"Payment vouchers are not supported with relevant documentations and reports for accountability. CDFC minutes also are not attached to authorise payments," reads part of the report.
In an interesting twist, the CDF officials claimed that water pipes were washed by floods after auditors insisted on ascertaining the Sh1 million Sachosoi water project.
"We could not access the Sh1 million pipes project after the CDFC secretary who accompanied us during the project visit told us that the intake was washed away during the August long rains," reads the auditor's report.
The auditor also cited poor control of motor vehicle fuel where constituency vehicles refuel at Tobil filling station in Kabarnet.
"Motor vehicle fuel was not was properly controlled as payments for supply of diesel for GK A961X were not supported by bulk fuel register, statement of fuel consumption from the sourced fuel service station, detail orders and work tickets," reads the report.
The audit also revealed that some employees got their jobs without presenting any document to the CDF committee during the interviews.
"In minutes by CDF committee meeting on 11/03/2015 members were presented with a report from select committee to appoint the staff. The CDFC approved recommendations to hire Margaret Songol (accounts clerk), Nancy Jepkemboi (secretary), and support staffs Getrude Kiprop and Monicah Katamei. They were then issued with appointment letters. However, qualifications for Margaret Songol could not be ascertained as her copies of certificates were not availed for audit," reads the report.
The audit report also revealed imprest amounting to millions of shillings was not surrendered by CDF employees.
Further there was no accountability for bursary and youth training payments.
Documents show Sh4.3 million was paid to Bartek institute for driving lessons for youth without providing the list of trainees.
"Cheque numbers 3185, 3632 and 3806 worth over Sh4 million were paid to Bartek institute for driving lessons for youths. However there is no list of trainees attached or availed to authenticate the payments," reads the audit report.
"Sh257,650 used to purchase evaluation tests for Standard Eight candidates was not accounted," shows the report.
On projects being implemented, the audit report noted that project files and documentation were not available.
"Project files are either not available or not up to date. We found out also that most projects were not supervised and yet payments are made without CDFC minuted
-standardmedia.co.ke