Details of Al Shabaab attack on KDF emerge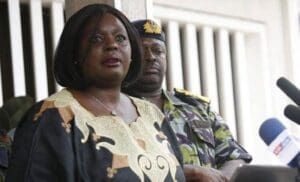 The soldiers killed and injured by Al Shabaab at El Adde in Somalia's Gedo region belonged to 9th Kenya Rifles formation in Eldoret and arrived in Somalia by road two days before the attack by militants, military sources indicate.
KDF soldiers in Somalia under AMISOM are deployed for periods and are often rotated within Somalia itself or are withdrawn and replaced with other soldiers after a certain period.
The 9th Kenya Rifles is an infantry formation and the soldiers, some who were on their second tour of duty in Somalia, left Eldoret two weeks ago for Mandera before entering Somalia by road last week.
The sources also told The Standard that identification of the deceased and notification of families may take long because most of the bodies were dismembered extensively in the massive explosions.
Depending on the extent of dismemberment, a few may be identified by the tag which bears the soldier's name, blood group and other details.
Additional information on identity will come from debriefing of the injured but most information will be known from DNA sequencing of next of kin after collection of all available body parts from the scene of Kenya's worst battlefield carnage.
Although KDF and Somalia National Army (SNA) work in collaboration and the Somali forces are considered friendly forces, there is little or no interaction between soldiers and even SNA commanders are not allowed into KDF camps.
Foot patrols
SNA forces are often lightly armed and lack enough armour.
KDF's bases in Gedo are not similar to what readers are accustomed to in the permanent barracks—they are mainly tented or camouflage embankments in a flat and extensively cleared area, secured by watchtowers and armed sentries atop armoured personnel carriers (APC).
Besides moving in the APC, soldiers mount foot patrols in townships and are also supported by air cavalry helicopters and fixed-wing jet fighters in some missions.
The camps contain the command centre and include all sorts of teams including medical corps, fighting units, tank platoons, artillery and mortar batteries and teams, besides reconnaissance and other fighting units such as special forces.
We have also established that although special forces have arrived by air in and around the wrecked base, other Kenyan forces in Busar, Taraqa, Fafaxaduun, El Win and Bardheere have not moved into El Adde for lack of reliable intelligence and fear that the militants, who are said to have included Kenyan foreign fighters, might have mined this area or rigged it with explosives.
If confirmed, the toll reported to be over 60, it would mean that more than half of the soldiers stationed at the camp were wiped out in the huge explosion detonated by a suicide bomber early on Friday.
The camp had one company or the equivalent of 100 to 150 soldiers commanded by an officer.
Reports show that a suicide bomber drove the Vehicle Borne Improvised Explosive Device (VBIED) into the centre of the Kenyan camp and detonated a huge bomb with a fragmentation radius of 200 metres.
Militants then surged in with rockets and machine guns. Many of them also perished in the 5am explosion. Some accounts now indicate that more than one VBIED was detonated.
And sources within the military told The Standard that special forces were deployed in areas around El Adde on Friday during the day and Saturday for search and rescue operations.
The Standard also established that Kenya's military command authorised search and rescue operations on Friday to locate any soldiers missing in action, investigate the battlefield and attack the militants who, reportedly, broke into small groups after inflicting the damage.
The investigation also seeks to establish reports that some local residents and elements within the SNA aided the assault on the KDF camp.
The audit, according to sources, also seeks to assess intelligence if any, laxity and reconnaissance failures, review relations with SNA and establish whether anything could have been done to destroy the VBIED before it went deep into the KDF camp.
A military official told The Standard that a section of the local population appears to have aided the planning of the attack, beginning with the secretive insertion of the VBIED days or weeks before Friday's carnage.
The official ,who cannot be named, told The Standard that "we received reports that the entire population of El Adde fled the town about three hours before the attack, which means they were aware something was about to happen."
But the official reports that this behaviour is a bit unusual because the civilian population in these areas tend to flee conflict zones days in advance fearing to be caught up in skirmishes "but in this case they stayed behind until the last moments, which means either they co-operated in the preparations in order not to alert the KDF reconnaissance teams if they fled en masse or were coerced to stay."
Barre's birthplace
Most of the ethnic Marehan in Gedo resent KDF and consider them to be supportive of their ethnic rivals the Ogaden who now control Kismayu port.
Marehan warlords lost control of Kismayu many years ago and Gedo region was the birthplace of Islamic movements after the collapse of the Siyaad Barre regime in 1991. Historically, it also has a strong martial history, being the late Barre's birthplace and backbone of his military.
Relations between KDF and the local Marehan population have been frosty since KDF's invasion in 2011 and El Adde's capture in December that year.
Ethnic Marehan provide the bulk of Al Shabaab militants in Gedo region but relations between them and KDF and elements within SNA have been frosty since the detention of SNA's top military official in that region Brigadier Abbas Gure in Kismayu several years ago.
Two years ago Gure was detained in Kismayu, apparently by KDF and Ras Kamboni Brigade fighters. Relations between Abbas, who now is stationed in Bardheere which is held by Ethiopian and Kenyan forces, and Mohamed Hersi Islam Madhobe, the interim president of Jubbaland are frosty.
Meanwhile we also established that the VBIEDs used in the attack were made from an Armoured Personnel Carrier captured from Burundian peacekeepers last year and taken to the outskirts of El Adde from Wargadud, 40km north of El Adde.
It is believed that it was either towed or pulled painstakingly for days, most possibly at night to evade detection by KDF's reconnaissance.
-standardmedia.co.ke