DREAM CUT SHORT: THE PASSING AWAY OF ANGIEL MOASA
DREAM CUT SHORT: THE PASSING AWAY OF ANGIEL MOASA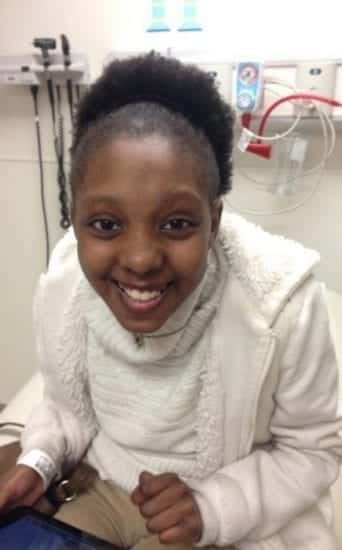 14-year-old Angiel Moasa once said in a public service announcement for St. Jude hospital that she had a list of things she hoped to accomplish after beating cancer. One goal was to pursue a career in medicine. "I want to be a doctor because I get to help other kids and adults," she said This was a dream that Angiel had but unfortunately it was not fulfilled as her dreams were cut short as she passed away on December 29th 2015.
Her fight began on May 19th 2011 when 9-year old Angiel Maosa woke up screaming in the night from a throbbing ache in her leg. Her mother, Damaris Ondieki knew the explanation of growing pains couldn't possibly be true. She took her daughter Angiel to see a doctor the next day. The news wasn't good. An X-ray revealed a bone tumor to her knees. After seeing a specialist, Angiel was eventually referred to St. Jude Children's Research Hospital in Memphis. So instead of a planned summer vacation to visit Kenya, Angiel and her family left Mobile and headed to Tennessee in search of life-saving treatments for her oldest child. Angiel was diagnosed with Osteosarcoma which is a type of bone cancer. Her treatment included multiple sessions of chemotherapy, radiation, limb salvaging surgery to her bilateral knees to name but a few.
Angiel's demise leaves family and friends in great sorrow and pain, she was known to many as the most loving, selfless individual who always had a contagious smile on her face. Even though she went through so much pain, she was the one who was quick to comfort many. Her disease did not put her down but instead Angiel learnt to deal with her situation and she fought till the last minute when her cancer metastasized to her brain a few weeks ago.
Family and friends are currently meeting at Dr. Wycliffe Mugoya's residence: 276 Vasser Dr. Piscataway NJ 08854.
A Fund raiser for Angiel's Medical and Funeral Expense is on Saturday, January 9, 2016 at Muungano SDA Church 1799 Kennedy Blvd, Jersey City , NJ at 6:00 pm.
You can also donate towards through the following gofundme link –
https://www.gofundme.com/v4gzmbtg
Feel free to share with your family, co-workers and friends.
Angiel will be laid to rest on Friday, January 15, 2016 in Atlanta, GA
We want to thank you in advance for your prayers and support.
Please if you need more info, do not hesitate to reach out to the following committee members;
Zachary Moitui              201 889 3636
Dr. Wycliffe Mugoya      201 232 0101
Shem Onditi                  201 532 2026
George Ongiri                973 227 5270
Peter Masongo              973 432 4717
Dr.Joel Ongaro              908 227 7741
James Muchina             201 892 7034
James Maua                 201 892 7034
Dr. George Omburo       201 774 4351
Wycliffe Mogire             973 704 8215
Hellen Nyamiaka           201 338 0095
Bonny Getugi                302 897 7113
George Maragia             610 972 6603
Dr. Maria Kioko             201 320 3048
Nahashon Ogutu           201 221 1177
Sammy Michieka          551 221 1177
DREAM CUT SHORT: THE PASSING AWAY OF ANGIEL MOASA