Former president Kibaki aide says he is ready to be deployed to Somalia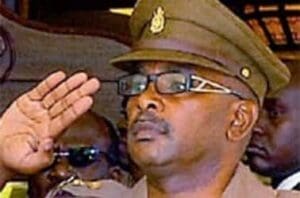 In the midst of the bloody war zone in Somalia, a military retiree has come out to tell the government he is ready to be deployed to the country.
Col (Rtd) Geoffrey King'ang'i who was aide-de-camp to former president Mwai Kibaki said it is high time Kenya retaliated to the massacre that allegedly claimed the lives of over 60 Kenyan soldiers.
Speaking to the Standard, King'ang'i exuded confidence that his views cut across all army retirees.
"It is a military 'instinct' and procedure that they will retaliate whenever they are attacked. As retirees, we are ready to be deployed as we cannot let the lives of our colleagues be lost in vain," said King'ang'i.
He said that the bloody attack has placed Kenya in a watershed state that the next decision to be made consequent to this attack will be a determinant.
King'ang'i said the terrorists phenomenon is not good for the country and that those insisting that Kenyan troops be withdrawn do not have a 'grip' of war.
"Kenya has not been to war so people do not have the realities of war zones. In a way, it is a display of not having a grip of what kind of threat we are facing," he said.
Coalition of Reforms and Democracy (Cord) Co-principal Kalonzo Musyoka is one of the leaders who reacted to the El-Ade attack saying: "I mourn our fallen soldiers at El Adhe, Somalia. My condolences and prayers are with their families. I reiterate my call to withdraw all KDF."
"Withdrawing from Somalia does not stop the attacks from happening. The role that Kenya played in liberating Somalia is too enormous to let it be washed away," he noted extending his condolences to the bereaved families.
In a workshop organised by United Nations on how to deal with violent extremism policy experts, led by Director National Counter Terrorism Centre (NCTC) Amb Martin Kimani and African Policy Institute (API) boss Prof Peter Kagwanja asked for less military action in the fight against terrorism.
Instead, they asked for anti-terrorism policies that will realise more of community engagement in the terrorist's prone areas.
-standardmedia.co.ke