Larry Madowo Sparks Rage After 'Insulting' Raila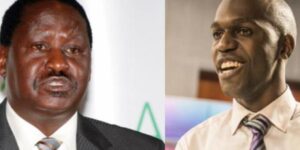 NTV journalist Larry Madowo was bashed on social media for posting a tweet deemed disrespectful to CORD Principal Raila Odinga, owing to the inappropriate language he used.
Madowo's post came after the much anticipated Eurobond list from Odinga meant to mention individuals who benefited from the bond, but instead gave a 'persons of interest' list, leaving many deflated.
On his twitter handle the journalist said: "Show of hands, who else was expecting an explosive list from Raila Odinga and all we got was nothing more than a fart?"
Madowo's choice of words left many amused while others were angry for referring to the former minister in such 'low standards'.
ODM Communications officer Philip Etale also joined in criticising the journalist saying: "such words shouldn't be coming from someone people expect to get objectivity from".
-kenyans.co.ke