ODM MPs want Omamo, Mwathethe sacked over El Adde attack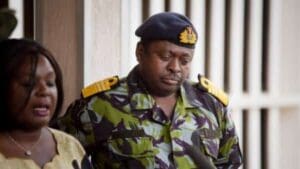 Nairobi: Four ODM MPs who sit in the Public Accounts Committee have asked President Uhuru Kenyatta to fire or reassign Defence Cabinet Secretary Raychelle Omamo and Chief of Defence Forces Gen Samson Mwathethe over the El Adde attack in which an unknown number of Kenyan soldiers were killed and military hardware looted.
The MPs criticised the President for what they said was the "casual manner" he had treated the death of the troops and for keeping the country in the dark over the numbers of those killed and those injured.
The MPs, Nicholas Gumbo (Rarieda), Junet Mohammed (Suna East), Abdikadir Aden (Balambala) and Timothy Bosire (Kitutu Masaba) called for withdrawal of the troops from Somalia by the end of 2016
They also said Omamo has to be given "lighter duties but not that of protecting the country from Al shabaab".
"The lack of adequate communication and support to the families is unacceptable. We demand for good care for the families and openness to the Kenyan public who are equally shocked with poor management of this serious situation," said Abdikadir.
 -standardmedia.co.k