Uhuru to attend tribute event for fallen KDF soldiers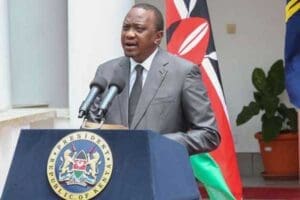 President Uhuru Kenyatta will on Friday attend a special remembrance ceremony for Kenya Defence Forces (KDF) soldiers killed in an attack by Al-Shabaab at El-Adde, Somalia.
The President, who has been in Mombasa for several weeks, will first visit soldiers injured in the attack at Armed Forces Memorial Hospital in Nairobi.
A statement by Statehouse Spokesperson Manoah Esipisu stated that the Head of State is expected to address families of the troops at the hospital.
The ceremony to honour the fallen soldiers will be attended by representatives of the African Union Mission in Somalia (AMISOM), African Union and United Nations.
Mr Esipisu said President Kenyatta will address the audience "including troops, their families, diplomats and senior government officials".
In an address to the nation on Tuesday, President Kenyatta vowed to continue the war against Al-Shabaab in Somalia, saying Kenya remains "unbowed" and "will continue to stand with the international community to free Somalia from oppression by terror groups".
-nation.co.ke