Mama Orange wants more than Sh10,000 'fare' from Raila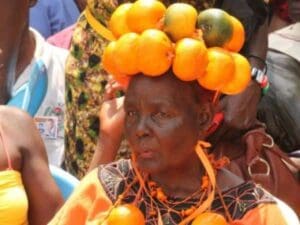 Mama Orange, who cried neglect despite being a staunch ODM supporter, has reported meeting party leader Raila Odinga but said she did not get assistance.
Roselyn Akinyi, known for 'wearing' oranges during rallies, expressed her wish to meet Raila and Nairobi Governor Evans Kidero on February 9.
She noted then that she has traversed the country supporting ODM and its leader for more than a decade and was injured in 2013 while campaigning for Kidero.
Akinyi said on Monday that she met Raila at his office in Capitol Hill, Nairobi, last week, where he reportedly gave her 'fare' and sent her to Kidero for assistance.
"Someone called me and asked me to go Capitol Hill. I went, and thank God I met my party leader. I explained all my problems to him," she said.
"He gave me something small for fare – Sh10,000 – and sent me to Kidero… to get me a house and start a business for me."
But Akinyi said her attempts to meet Kidero have been futile and that she has been blocked by security at City Hall whenever she tries to have an audience with the governor.
Mama Orange, who has supported the party since 2003, lived in Eastleigh Section Three, but claimed she was evicted by her landlord in June 2015 for supporting Raila and ODM.
She said her five grandchildren – orphaned five years ago – dropped out of school for lack of fees.
The 'Orange Lady' has also asked well-wishers to buy her oranges.
-the-star.co.ke