S. Sudan president names rival as vice president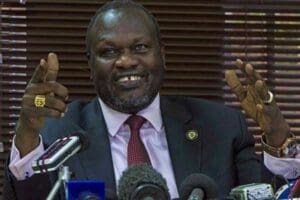 South Sudan's President Salva Kiir has named his arch-rival Riek Machar as vice-president, raising hopes for the implementation of a repeatedly broken peace deal to end more than two years of civil war.
Tens of thousands of people have been killed and over two million forced from their homes since war between the rivals broke out in December 2013, pushing the world's youngest nation to the brink of famine.
"I, Salva Kiir Mayardit, President of the Republic of South Sudan, do hereby issue this Republican Decree for the appointment of Dr Riek Machar Teny as the first vice President of the Republic of South Sudan," said the decree issued late on Thursday.
While the appointment was agreed as part of an August 2015 peace deal, its announcement now adds pressure on Machar to return to South Sudan from exile.
But fighting continues, and the conflict now involves multiple militia forces driven by local agendas or revenge, who pay little heed to paper peace deals.
Machar, who was vice-president from 2005 until he was sacked in 2013, and who has yet to return to Juba since fleeing when war broke out, welcomed the decree.
"It is welcome news because it is a step forward in the implementation of the peace agreement," Mr Machar told AFP from Ethiopia.
"It means we are implementing the peace agreement as stipulated," he added.
Some 2.8 million people — or a quarter of the country — needs aid, while in war-torn northern areas 40,00 are being starved to death, with violence blocking desperately needed aid.
It was not immediately clear when Machar would travel to Juba to take up his post, and what it would take for him to feel secure enough to return.
"If I get the support needed for the implementation of security arrangements, I think within a few weeks I will be able to take up my position," Mr Machar said.
Analysts warned that while Kiir's decree may help end the war between the two, levels of intense violence and conflict will likely continue at a local level.
Casie Copeland, from the International Crisis Group (ICG) pointed out the increasingly "fractious" nature of rebel and opposition forces, repeating previous warnings that violence is shifting into "a multi-polar war with localised conflicts."
The peace agreement is increasingly fragile, with Mr Kiir undermining a fundamental pillar of its power-sharing clauses by nearly tripling the number of regional states.
Mr Kiir also signed into law on Thursday an controversial Non-Governmental Organisations (NGO) bill, restricting numbers of foreign aid workers, which has both raised fears it will hinder efforts to help millions in need, and goes against the peace agreement.
Civil war erupted when Mr Kiir accused his former deputy Machar of planning a coup, setting off a cycle of retaliatory killings that have split the poverty-stricken, landlocked country along ethnic lines.
The two leaders come from the south's two main ethnic groups, Mr Kiir from the Dinka people and Mr Machar from the Nuer, tribes that are themselves split into multiple and sometimes rival clans.
Mr Kiir and Mr Machar are former rebel leaders who rose to power during Sudan's 1983-2005 civil war between north and south, after which South Sudan seceded in 2011 to form the world's youngest country.
Current vice-president James Wani Igga will remain in his post, but now rank below Mr Machar.
Both the government and rebel sides have been accused of perpetrating ethnic massacres, recruiting and killing children and carrying out widespread rape, torture and forced displacement of populations to "cleanse" areas of their opponents.
Last month, a UN panel of experts recommended sanctions on the two leaders for their role in the brutal war.
But Mr Machar said the most important thing was trying to create peace.
"Do you want war to continue, or do you want to bring peace? If you want peace, then you have to follow the political will to implement the peace agreement," Mr Machar said.
-nation.co.ke